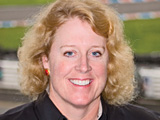 Winning is not a new experience for Aloha, Ore., resident Cindi Lux. The Viper Nation fan favorite and driver of the No. 12 Lux Performance Group LLC Dodge Viper Competition Coupe has amassed twelve road racing championships, 75 victories and 150 podium finishes in her career. Yet perhaps none of her previous wins carry quite the significance of her two victories in the 49th Annual Rose Cup, held June 12–14 at Portland International Raceway.
Yes, the Rose Cup is the largest club racing event west of the Mississippi. And, yes, hometown favorite Lux was rooted on by her friends and family. But the highest honor for Lux was joining inaugural Rose Cup winner Dick Hahn on the list of victors. What's so important about Mr. Hahn? Well, his daughter is Cindi Lux!
"There is nothing better than coming home to race," said Lux, who posted her Viper Comp Coupe on the pole for both SPO-class races and never trailed in either. "I just love running in the Rose Cup race, not just because of our family heritage but just how much fun it is. The Rose Festival Association certainly knows how to promote a sports car race here in Portland and makes this event very fan friendly."
Lux competed in 2007 and 2008 in the SCCA SPEED World Challenge GT Series, earning two Piloti Rookie of the Race Awards and also setting the SPEED GT record as the highest finishing (fifth) and highest starting (third) female driver in that professional series' history. She also put on a show last year at the Detroit Belle Isle Grand Prix for more than 800 Dodge Viper owners and guests in town for the tenth Viper Owners Invitational (VOI.10). Lux steered her Viper Competition Coupe to a top 10 finish in the SPEED GT class and earned Hard Charger and Holeshot race awards before a cheering throng of Viper faithful.
Lux's 12th trip to the Rose Cup was her charm.
"The Viper was unbelievable to drive," raved Lux. "It was absolutely on rails the entire weekend. It was great doing a race in our hometown, especially for our guys in the shop. They hardly get the opportunity to come out to the track and watch the cars they prep actually race. I can't tell how good it felt to get back behind the wheel again of our Viper. Nothing is better than passing all those Corvettes and Porsches … especially under braking! They think the Viper is all about horsepower but in reality it's all about the handling and braking. They got a quick lesson on Vipers this weekend!"