Story by Roger Meiners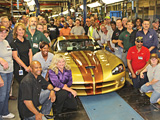 The last Dodge Viper came down the line at the Conner Avenue Assembly Plant (CAAP) at noon on July 1. It goes to Viper collector extraordinaire D'Ann Rauh, of Arp, Texas. D'Ann was covered in the Fall 2009 issue of VIPER Magazine. We reported that she and her husband, Wayne, owned 29 Vipers—with two more on the way. At that time she was asked when their collecting might end, and D'Ann said, "I don't know. When they stop building them."
She didn't know at that time, but the end was coming—and it's here now. D'Ann now owns the last current-generation Dodge Viper, a Gold and Copper SRT10® coupe that came down the line at Conner Avenue July 1, 2010.
This spectacular car has been covered in House of Kolor paint by Prefix, of Rochester Hills, Mich., and features Gleaming Gold with Coppertone stripes bordered with Black Onyx metallic finish.
The stripes were designed by Mark Trostle of Chrysler Design. Trostle, with fellow Chrysler designers Jeff Aneiros and Scott Krugger laid out the stripes on the car. Bob Soroka, an SRT® designer, airbrushed the Coppertone stripes with a unique "snakeskin" detail laid out by Chrysler engineer Karl Schuneman on his home computer graphics equipment. This "snakeskin" detail is actually ten race track maps that figure in Viper history, including Daytona, Le Mans, Sebring, the Nurburgring, Laguna Seca, Nelson Ledges, Road America, Texas Motorsports Ranch, Gingerman and Blackhawk Farms. Readers are invited to study the airbrush work and identify the tracks.
Venzano Interiors of Waterford, Mich., draped the entire interior with ultra-quality tan and black hides—and a custom-stitched Viper logo on the rear bulkhead.
This car just might be the jewel in D'Ann and Wayne's fabulous collection!
To view the entire article download the following pdf.
Last Viper Down the Line – PDF
To download the centerfold of The Dodge Viper Production Team as the last Gen IV 2010 Dodge Viper SRT10® rolls off the line at CAAP on July 1, 2010 in Detroit, Mich.
Last Viper Down the Line Centerfold – PDF