By Darren Jacobs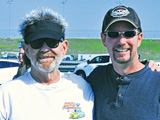 Southern California VCA member Mike Moore loved cars. The Inglewood, Calif. native's high school days were spent working on cars and motorcycles and palling around with his amigos from the "King Pins" car club. Moore raced all over the West Coast, competed in prestigious off-road events such as the "Baja 500," belonged to numerous car clubs and owned and restored practically every type of classic and exotic car you can name. In short, he was a "car guy" through and through.
But when he fell for the Viper, Moore fell hard. Despite suffering from the illness that would eventually claim his life, Moore purchased his 1999 solid black Viper ACR in 2009 and soon hooked up with the Southern California VCA.
"Mike loved cars and was able to buy his dream cars, and when he had the opportunity to buy his Viper, although quite ill, he was so excited," recalled Mary Lou Moore, Mike's wife. "He would tell everyone that it was the fastest car he ever had and it 'scared him to death'—which he loved! He joined the VCA, but unfortunately was not able to participate in many of the events."
Although he wasn't able to drive his new Viper as much as he would have liked, Mike got nearly as much enjoyment from watching his son, Curt, take the wheel of his Snake. One SoCal VCA event in particular stands out for the Moore clan.
"Mike paid to have Curt enter and drive the car at the November 2009 event held at Auto Club Speedway in Fontana," said Mary Lou. "Curt came in second in the autocross. Mike was so proud of him and the car."
"My dad got sick very suddenly, and was only able to survive just over a year past diagnosis," said Curt. "All throughout my childhood my dad was building and racing cars and motorcycles. He wanted to attend the Viper day at Fontana, and he told me to register the car and drive it for him. Dad said it was the best day he had during his entire sickness. He had all his immediate family there and the car ran great! My dad passed away two weeks to the day after that event.
"Dad had an exclusive collection of cars and motorcycles that we have already sold, but the only one from the collection I am keeping is the Viper ACR. My dad and I have driven many outrageous cars, but this is by far the fastest street car either of us have driven. I intend to keep the car as my permanent reminder of my father and will continue to be a part of the last club he was with, the SoCal Viper Club. I miss and love you, dad."
Mike Moore might be gone, but his spirit lives on, roaring to life every time his son turns the key of one very special Viper.