VCA IL Region Celebrates 15th Anniversary
By Alex Ristanovic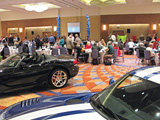 It was 15 years ago in April of this year that the Illinois Region Viper Club was founded, making it the oldest Viper Club region in the Viper Club of America. Its humble beginnings grew from a very modest group of members (about a dozen) supported by a budget less than what most of us carry in our pockets daily!
Fast forward to this day. Our club is just over 200 members strong and boasts an INCREDIBLY active membership with very diverse events. But one thing that has never changed is the heart and pride of the club. And after so many years of this active family being together, it was time to commemorate this 15th birthday milestone by throwing our biggest IL VCA Winter Fest party ever! The event was an elaborate affair, complete with a stunning location, extravagant displays, free raffle, goodie bags, auction, awards, entertainment, centerpiece giveaway, and some very special VIP guests. Oh, and we had some special "hardware" on hand as well …
The location was the well known Renaissance Hotel and Convention Center in Schaumburg, Ill. The party was held as a Saturday evening celebration on Valentine's Day. Members came from far and wide setting a milestone for attendance as 171 people came to show their support!
Upon entering the party, every member was greeted at the registration table and handed a VERY special goodie bag, raffle tickets, roses for the ladies, and a couple light up goodies. Upon setting foot into the main hall, eyes exploded as they witnessed a spectacle. Vipers were parked all over the inside of the ballroom! A row of every generation of Viper greeted you, in addition to a gleaming new Viper ACR in the center of the display. Also, a very special car loaned to us by our buddies at Chrysler … the Chrysler ME412. What other car company is this loyal to its customers? All the cars created a great place to hang out, have a drink, grab an appetizer, and settle in for a very special night.
The room was adorned with decorations. A tower of balloons stood 25 feet high at the entrance with a 12-ft movie screen dominating the center of the room. There was a massive merchandise display of all the club's merchandise (over 100 different items!). The silent and live auction items were also on display. While there were too many auction items to name, among them were wild items like a custom painted Viper hood, a gas powered go-kart painted like a Viper ACR (with wing!), custom painted Viper mini refrigerators, and a 4-foot-tall perfect color replica of the IL club logo in solid polished aluminum! People were salivating.
Dinner kicked off and all through the meal we ran a free raffle that trickled thousands of dollars in raffle items to the group. As the desserts were served, our infamous entertainment segment began – this was to be the most jaw dropping ever with one heck of an agenda!
It began with a brief history of our club and a preview of the fun anniversary year to come. Then, an introduction of our current officers, as well as honoring our retiring officers with some very special gifts. This led into a wonderful segment with many guest speakers.
We were honored to be joined by so many VIPs, most traveling great distances to join us. To begin, we had our first IL Region President, Steve Ferguson, kick things off with stories of how the club started and shared his pride in seeing what his humble club had become. Next up we were honored to be joined by our current National President hailing from Kansas City, Chris Marshall, who spoke of the raffle car, the VCA, his impressions of the IL Region, and the future of the club. From Detroit, we were pleased to be joined by Chrysler's Viper engine guru, Dick Winkles, manager, SRT® powertrain engineering and Viper electronics expert Ben Swears, SRT electrical systems engineer. They led us on a conversation about the Viper's development, shared some funny stories, and held a good discussion about the new Mopar® engine controller. And last but not least, a face many of the IL Region members know well and are huge fans of, our friend and Sr. Vice President of Design for Chrysler, Ralph Gilles (with his wife Doris and kids alongside)! Ralph spoke of the company, sale of Viper, and joked of the memories he's had with our members. Members were stunned at the well known panel of speakers they had the privilege to enjoy! It meant a lot to us.
Next came the big video segment, owed to the creativity of our Vice President, Gary Grube. A chilling and blood pumping 12-minute video montage ensued, beginning with a "high power" look at our last 15 years (goose bumps). Next, was a viewing of the award winning VOI.10 video commercial, then … the wildest IL VCA production in history! The "Ode to Viper" RAP! Yes folks, taking the words from Ralph Gilles's VOI.10 "Ode to Viper," the words were put to music and the IL VCA members built what was not only a WILDLY entertaining rap video, but perhaps the first possible hit single coming from the Viper Club! Hysteria broke out, Ralph's face was priceless. The video ended with all the hilarious outtakes from the rap, members applauded in delight.
After the room settled down, the awards segment began and 25 members were honored for their contributions and accomplishments. Next we unveiled the 2009 club banner, held an unbelievable auction, and also gave away the very valuable centerpieces adorning the many tables. By the end of the evening, there was not an empty hand in the room nor a face without a smile, as members were floored by what they had just witnessed and received. One final thank you to the crowd that brought the group to its feet in applause, and of course, a repeat viewing of the IL VCA rap video to end the night!
Cheers to all those who attended this milestone event! This gathering was an example of what passion, caring, and pride can create. I've been a member of the IL Region myself since some of its earliest days under our first president. I've seen it evolve into something that is beyond special, something you have to experience to really understand. Words don't do it justice, but I do know one word that sums this club up quite well … FAMILY!