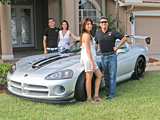 There's good luck, like finding a penny on the ground, or not having your number called during jury duty. Then there's jump for joy, shout out loud, wake the neighbors and shake your money maker type luck. And that's the kind recently enjoyed by South Florida VCA member Art Jones.
Fortune's favor fell upon Jones the afternoon of Friday, May 15, when his winning VCA Raffle entry was randomly picked from a barrel full of tickets. Jones ponied up a few hundred dollars for the raffle tickets; he walked away with a 1-of-1 2009 VOI.10 Special Edition Coupe valued in the tens of thousands of dollars. That's reason for the most conservative among us to dance like they have ants in their pants!
"It took a while for it to soak in," said the fortuitous Jones. Now he's letting his new Viper soak up the rays of the sun as he cruises around South Florida. Perhaps Rod Stewart said it best: "Some guys have all the luck."
GUESS WHO'S COMING TO DINNER?
Feel lucky? Well, do ya? One VCA member will soon join Art Jones in the happy pantheon of Grand Prize raffle winners—the next VCA Raffle drawing is already on tap for Oct. 30, 2009!
Listen up—this here raffle is rather unique. You've heard of dinner and a movie. How about dinner and a Viper? The lucky Grand Prize raffle winner will take ownership of Bob Lutz's 1998 Dodge Viper GTS-R, built especially for him—#99 of 100. And Lutz, the driving force behind the creation of the Dodge Viper, will personally hand over the keys at a dinner with the raffle winner and a guest in scenic Ann Arbor, Mich. You get to dine with an automotive legend and then drive away in his Commemorative Edition FIA GT2 Championship Viper—one of the most valuable Vipers ever made (That's at least worth a 20 percent tip on the check!).
Second Prize is a set of Michelin tires (Winner's choice of style and size from current production tires.). Third Prize is one (1) Optima Battery (excluding Group 32), two (2) 2010 World Challenge tickets and two (2) 2010 World Challenge posters.
You must be a current VCA member to purchase raffle tickets. If you're not—well, then you better get crackin'! Call Viper Headquarters at 1-800-998-1110 to become a VCA member or to renew your membership by October 2, 2009. VCA Raffle tickets are $125 each, three for $300, or five for $500 for VCA Venom members only.
For complete information and rules on the VCA Raffle, or to download a Raffle Ticket Order Form, visit