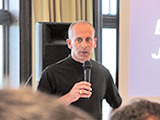 The Illinois VCA boasts one of the most enthusiastic membership bases and schedules an extensive and exciting slate of events—the inaugural VCA chapter is about as active as a five-year-old jacked up on Mountain Dew! That passion is also on display at the many charitable activities the club takes part in.
One charity the IL VCA supports is the Illinois Fatherhood Initiative (IFI), a statewide charity that promotes responsible fathering by helping to equip men with the tools to become better fathers. The IFI's annual celebrity golf outing took place on July 8 at Makray Memorial Golf Club in Barrington, Ill., and the IL VCA pitched in to lend a helping hand once again.
"We've worked with IFI for the last four years," said Alex Ristanovic, IL VCA president. "David Hirsch is an IL VCA member and founder of the Illinois Fatherhood Initiative. Each year he hosts a celebrity golf outing to raise money for the charity. The event is usually several days and has included dinner fundraisers as well as activity days for kids."
Despite interference by Mother Nature in the form of rain sprinkles, a large group of Viper owners turned out to display their cars near the main entrance to the golf club, where the charity dinner took place. A large number of celebrities were in attendance, including comedian Tom Dreesen, former Chicago Bears NFL players Kevin Butler and Richard Dent, Pat McCaskey, Director of the Chicago Bears, and Chicago Blackhawks NHL hockey legend Stan Mikita.
The dinner featured a live auction, and, of course, IL VCA members couldn't resist wading into the bidding! Members Larry and Nancy Friend placed the winning bid for a package that included tickets to an Elton John concert at Chicago's famed Wrigley Field, as well as tickets to a number of Chicago sporting events. All told, the IL VCA helped IFI raise $54,000 at the event. Just another day's work for the Viper Club of America.
"Our goal has always been to draw eyes to the event and bring attention to the cause," said Ristanovic. "What better way to do it than with our Vipers! We're also a sponsor of the IFI. We donate some of our charity monies earned through our club banner program to help the IFI.
"It's an extraordinary group of people to say the least! Every year we meet new celebrities. I once even bumped into Mike Ditka after his round of golf. We're proud to be a sponsor of the IFI and the work this local charity does."
For more information on the Illinois Fatherhood Initiative, visit www.4fathers.org.