Story by Maurice Q. Liang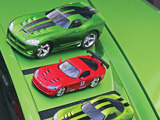 Hood vents. Those six large openings in the hood are the quickest way to identify a 2008+ Viper, especially in miniature form, where the details are often lost. Five years after the introduction of the 2003 Gen III Viper, the introduction of new Viper toys had dwindled to a trickle. But with the release of the '08 Viper coupe, a rush of new collectibles have hit the market. If you think the '08 is a vintage year, you're in luck when it comes to miniature versions.
MEDIUM SIZE
Starting at the top of the photo is the 1/18 scale RidemakerZ Viper coupe. Similar to the Build-A-Bear teddy bears, these cars can be customized with various wheels, tires, hood scoops, exhausts, wings, and other accessories. They can be built as a "roller" model or as a remote control car. Either way, they are battery-operated with lights and sounds. Right now, they come in Snakeskin Green with black stripes, Venom Red with silver stripes, or flat black. Prices run from $30 to $70, depending on how many accessories you want to load it up with. Visit www.ridemakerz.com to build your own online.
Next is the red metal diecast coupe from JADA in 1/24 scale. JADA makes the coupe in two versions—race-ready—like the one shown, or street. Interestingly, the race version has the stock "H"-wheels, while the street version has custom, deep-dish wheels. The race version also comes with the huge ACR-like wing and racing decals. Race versions are available in red, blue, silver, or black. Street versions are available in red, blue, silver, and yellow. Around $12 each at Kmart and hobby stores.
One of my favorites is the Snakeskin Green 1/20 scale remote control car from Radical Racer. This plastic-bodied car is simple, but fairly accurately proportioned, and available in Snakeskin Green with black stripes or Venom Red with white stripes. Only $13 at discount stores.
At the bottom of the photo is the 1/24 scale blue remote control car from Megatoys. It's a great first Viper toy for a young Viperholic. This plastic car comes in blue with white stripes or red with white stripes, and is only $6 at Walmart stores.
GIANT SIZE
Blue with white stripes, though not an officially available color scheme on the real '08 coupe, is still a popular paint scheme in toy form. Both the Megatoys 1/24 scale R/C car mentioned above and the large, 1/10 scale remote control car from Fastlane come in this color scheme. Though it's a standard plastic-body R/C car, the Fastlane model makes a great display model, with its Razor wheels. I painted one to mock-up the paint scheme on my real one-of-one Viper. Available at Toys "R" Us.
MINI SIZE
Though most of the smaller, 1/64 scale Viper coupe models are of the 2006 version, two companies offer the '08 version in diecast form. Tracksters makes one in GTS blue with white stripes. The car comes with a code so you can race others online. Available for $14 from hobby stores. JADA also offers the 2008 Viper coupe in GTS blue (no stripes) and bright red (no stripes) in their "nex-gen muscle" series. They're nicely detailed and only $3 at Walmart and
Target stores.
LIGHTS, SOUNDS, ACTION
Two battery-operated plastic toys are available from Road Rippers. The larger, 1/14 scale version comes in blue, orange, green or yellow, and features lights, sounds, and motion, including doing a wheelie! The smaller 1/24 scale version comes in silver, and in addition to lights and sounds, will do a burnout! Available at Target and Walmart.
HONORABLE MENTION
Unfortunately, no one offers a nicely detailed diecast model of the '08 Viper in the popular 1/18 scale. The closest is AutoArt's 2006 Viper SRT10® coupe. Even though it's not an '08, it deserves mentioning because of the incredible detailing, down to the seat belt buckles and trim that make it look very realistic. The AutoArt models retail for $99 and are available in red with white stripes or black with white stripes. AutoArt models are mainly available through online stores and automobilia stores like AutoZone Hobbies at www.autozonehobbies.com.
As with all Viper collectibles, if you want them, buy them now. Most Viper toys don't stay on the market or the shelves for long, so once they're gone, it's hard to find them. Of course, most of the fun is in the hunt, so happy hunting!
Maurice Q. Liang is co-founder of the Viper Club of America and a rabid Viperabilia collector. You can contact him at [email protected].