By Michael Brett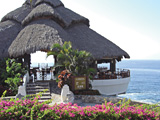 VCA Minnesota members once again treated their sweethearts to a special Valentine's Day dinner in Mexico followed by a week of fun in the sun. This year's destination of Manzanillo proved to be every bit as enjoyable as Ixtapa; last year's hiatus. Absolutely perfect weather conditions greeted us as we stepped off the plane and continued throughout our stay.
Our home for the week was the all inclusive picturesque Barceló Karmina Palace resort set directly on Manzanillo Bay. It's spacious and exquisitely landscaped grounds coupled with multiple cascading pools fed by waterfalls made for a perfect setting in which to enjoy our winter escape. The food was plentiful and very appetizing, while the beverages were cold and never ending. Multiple restaurants and bars scattered throughout the property provided a variety of settings to fill a void at any time during the day into late evening. The Carioca restaurant located on the upper most elevated point of the resort surrounded by crashing waves on three sides far below provided a superb location for our more special of celebrations: Valentine's Day, happy birthday Judy, and happy 8th anniversary Melanie and Jamie.
Even though the main purpose behind this vacation was to enjoy a leisurely time in the warmth, we did manage to pry ourselves away from the lounging chairs/beds on several occasions for an excursion away from the hotel. Our first such trip was into the Sierra Madres Mountains for a canopy tour. Arrangements were made for an open aired bus to pick us up and transport us to/from our hotel to the canopy tour facility high above the bay. Our route gave first time visitors to Mexico a closer look as we ventured through various parts of Manzanillo, several small authentic villages, and finally a one-lane twisty dirt trail up through the forest to the base facility of the canopy tour. At that point we were outfitted with the harness apparatus, helmets, and gloves, which would connect us with the cables in our effortless ride back down. After being outfitted we embarked on another three-hundred plus foot climb along a dirt path to the summit and cable number one. Along the way we maneuvered across a rather lengthy rope bridge spanning a smaller valley, which prevented our assent from being even more of a challenge. The view from the top was spectacular but at the same time just a bit intimidating as the cables seemed to disappear as they stretched across the valley below to the other side. The landing points appeared visible on the opposite peak, but the cables themselves became invisible as they stretched toward those points. One by one our tour guides provided instruction then attached us to the cables and sent us on our way. Cheers of support rang out as each person began hurtling across the cables and applause greeted everyone upon approach to the landing area on the far side. In between the only sounds were of the pulleys whistling upon the cables and the wind blowing through the canyon walls of the valley below. Although my guess would be that several participants did hear their hearts pounding since many in our group had never ridden a rip line prior to this adventure. At several points during the crossings wind gusts would cause you to spin enabling you to not only see up, down, and where you were headed, but also where you had come from. There were five such cable crossings prior to returning to our starting point near the base facility. Upon our arrival back at base our tour guides treated us to ice cold beverages made from the local flora followed by garden salad and pizza. One member of our group had an extreme fear of heights and to watch her connect to those first cables, then become more confident, and finally master the cables as we made our decent was very enjoyable for all who participated. WAY TO GO Carolynn!
The following day was one of rest for all but two of our more ambitious members in attendance who spent the day deep sea fishing in search of Marlin or Sail Fish. Unfortunately they returned without landing the big one, but not unrewarded. Several hours into the trip their boat came across a pod of Porpoises, which best guesstimates numbered about a hundred. The boat made multiple passes along side the pod in an attempt to lure any fish following the pod, but to no avail. The Porpoises although did put on quite a show for our members with all of their breaching, spinning, and darting. Even the young ones seemed to enjoy entertaining the strangers. The lack of action on the fish lines allowed one of our members to capture a majority of the frolicking on his DVR—fabulous footage Jerry.
Thursday was ATV day with about half of our group electing to participate. Again we were shuttled between our hotel and the ATVs aboard an open aired bus. Upon arrival we were outfitted with the necessary apparel, provided instruction on vehicle operation, and then allowed to practice before hitting the trails. Our route took us up a dirt road across the foothills and down to the jungle near the beach. At one point we were led into and through the dense jungle on a trail so narrow there was little room for error. We emerged from the jungle to a mostly arid area filled with cactus just short of the beach. From there it was a wide open run along an extended area of beach with the waves crashing just feet away. During this dash we came across two Mexican Marine patrols guarding particular areas of the beach, which we were informed were sea turtle nesting areas. As we slowly approached the patrols they seemed quite intimidating since they were in full gear with automatic weapons, but whether we were told the truth or not it mattered little as this encounter turned out to be a non-event. After guiding our machines along a specific route through that particular area of the beach we were back under way. A water break near the half way point along our beach chase near a very large rock protrusion providing shade, enabled us to stretch a bit while enjoying some ice cold water. It was then back on the machines for another dash along the sandy beach before reaching an area of sand dunes. These dunes measured about 300 feet long by 50 or so feet high. They turned us loose and we had a blast chasing each other up, down and all around. We took another short water break before beginning our trek back to the ATV facility via a different route through some of the ranch land along the foothills. All in all it was an exhilarating and enjoyable day.
The remainder of our vacation was spent lounging, conversing, reading, eating, drinking, joking, and laughing. Not to say we lay totally motionless as there were long walks along the beach accompanied by the crashing surf, snorkeling in the lagoon, body surfing at Miramar Beach, several shopping excursions, and beach volleyball. Team Viper performed much better this year than last putting down more than 80 percent of our competition—great work Captain Ray and team.
We ended our vacation as it had begun with a special celebration. This one away from the hotel at the L'Recif Restaurant located atop the foothills stretching down into the Pacific. The rocks below were lighted with spotlights so even after witnessing a fabulous sunset we could not only enjoy the sound but also the sight of the pounding waves. Leave it to this group to turn a non-descript event such as dinner into an adventure. We divided into two groups and loaded into our respective Suburbans for the trip from our hotel to the restaurant. During a routine stop at a stop light in route, Heather rolled down her window and issued the challenge by stating "You are going down." No need to relate to anyone reading this magazine that a Viper owner will take even the smallest of challenges and turn it into a major competition; we are no different so the race was on. Our vehicle got caught behind some traffic leaving the other vehicle substantially in the lead. But not to be denied our driver pulled a move that would leave even the most experienced Viper driver proud. After determining weaving through traffic would gain us little our driver dove down onto the service road paralleling the highway. Utilizing a little toe and heel action he feathered us along on the service road to a stop light that had halted the competition's movement. At the exact moment the left turn light signaled go he veered back into the left turn lane then back onto the highway for a lead we would not relinquish. The remainder of the trip saw multiple blocking moves as he kept the "other" guys from mounting any sort of real challenge. For his efforts our driver was amply rewarded by the winners.
A very enjoyable dinner ensued filled with lively discussion and laughter; a perfect way to put a wrap on our week of leisure. Following dinner it was back to the Suburbans for what was assumed to be an uneventful trip back to the hotel. Shortly after reaching the highway our vehicles were stopped and confronted by masked men all dressed in black supporting automatic weapons. We had found ourselves in the middle of a drug inspection being executed by Federal and local police. All occupants of the lead vehicle were forced to exit the vehicle while it was searched. Our vehicle fortunately was allowed to continue without a search, but our driver did proceed very slowly along the shoulder of the road until our friends were safely back in their vehicle and on their way. Once again this turned out to be a non-event, but the episode was a very sobering experience illustrating that it is a totally changed world no matter where you find yourself.
VCA MN's '09 winter get away was equally successful if not more so than last year's trip. This one may have even been a bit more special because not only did it provide a much needed respite from a very long and cold winter here in the Great White North, but it also enabled us to escape the gloom and doom of our current economic conditions if even for only a short time. Proof our trip was well received by all in attendance was evident through the numerous discussions surrounding where and when in 2010 prior to us ever arriving at the airport for our return trip home. Early indications point to VCA MN sharing our charm and wit with a Caribbean destination early next year. Viva VCA.