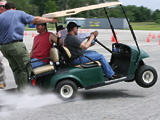 The folks in the Illinois chapter of the Viper Club of America often joke that the event known as the Longest Day should be renamed the Longest Weekend. The latter might best describe this event which combines three major driving disciplines into one huge two-day affair. Members from all over the Midwest participate in what has become a traditional event that incorporates drag, autocross and road course racing back-to-back-to-back.
Most drive in the day before to grab dinner together and get a good night's sleep before the next day's action. The weather was a question (the day before there was a tornado) and some drivers were scared off. But most are made of sturdier stuff as one driver said, "I don't think a hurricane would stand between us and our track day."
Day one always begins with a road course event at one of the club's favorite tracks—Putnam Park in northern Indiana. This year's event brought out more than two dozen Vipers and a good number of these contained rookie drivers.
Everyone arrived at the track bright and early to find that a nice sunrise was an indicator of good weather for the day. A short drivers' meeting was held before the action started on the track. Longest Day veterans comprised the first group on the course while the novices sat through some much-needed classroom sessions.
As the day warmed up, so did the lap times. Alex Ristanovic, president of the Illinois VCA and Longest Day competitor said, "It's just amazing what some of us can do with these cars and it shows what many years of driving experience can do to improve your skill."
After Putnam Park, the group began their trek to northern Indiana to get to their hotels for the next day. But, as Ristanovic reported, it wasn't a simple commute. He said, "As we were leaving Putnam, some terrible weather was coming through. It wasn't more than 20 minutes that the caravans found themselves in the middle of a terrible storm with high speed wind."
He continued, "The group of people driving Vipers battled the wild storm, even having to stop at times. Power lines were going down, trees were falling on roads, and two semis even tipped over. It was a wild ride! Luckily our group made it though without harm and continued on to our usual two restaurants for an evening's dinner. I think it's the first time we talked more about the weather than the day of racing."
Day two brought everyone to US41 Dragway. The drag racing shootout was scheduled for the morning and the autocross later in the afternoon. However, the weather still remained a threat. Ristanovic said, "In the early morning a very light drizzle began which prevented the drag from starting. After just an hour delay, we began our session. The day progressed with dry conditions and we were able to complete the drag racing portion of the event without incident."
With all eyes toward the sky, the drivers quickly hit the autocross course. "We started off with five runs each, figuring rain would catch up to us sooner or later," Ristanovic said. "But by late afternoon we laid in another five runs with no weather problems. We even had sun toward the end of our autocross. Over 15 plaques were awarded to members posting the fastest and most consistent scores across all three events. And our overall winner was Tom Shapiro."
As part of the closing ceremonies, a refreshing surprise was arranged by one of the Longest Day's veteran members, Howie Frank. He served up ice cream for everyone at the track. Ristanovic said the treat was the perfect capper to the weekend. "By the end of the two days, folks could indeed say they got their fill of racing, and with this group, that is no easy accomplishment!"