By Darren Jacobs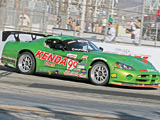 Some combinations work together so perfectly that each single element seems sadly out of sorts when forced to go it alone. Peanut butter just plain tastes better with jelly, biscuits cry out to be dipped in gravy, and Starsky just wouldn't be the same without Hutch.
And while the Viper is nothing to sneeze at while cruising along the streets, the Snake seems to really sizzle when it's able to cut loose on a drag strip, race track or road course. And that's just what a number of professional race teams did to kickoff the 2009 racing season.
SPEED World Challenge GT
The SCCA Pro Racing SPEED World Challenge GT Championship has been home to a number of regular Viper-powered competitors in recent years, and 2009 will be no exception.
Albuquerque, N.M. native Jason Daskalos led the Viper pack after the first two SPEED World Challenge GT events, at Sebring and Long Beach. Daskalos drove his Daskalos Developments Dodge Viper Competition Coupe to a fifth-place finish on the Streets of Long Beach road course on April 19. His sharp moves behind the wheel brought him the AutoWeek Move of the Race award for his deft pass of Tony Rivera's Porsche and moved Daskalos to eighth in the SPEED World Challenge GT standings.
Just behind Daskalos at ninth in the standings was rookie Viper pilot David Welch. The Kirkland, Wash. native made a head-turning debut at the Mobil 1 12 Hours of Sebring season opener on March 20, scoring a seventh-place finish in his Woodhouse Performance Viper Comp Coupe in his first visit to the track. Welch finished 19th at Long Beach.
"Every time David gets in the car he goes faster," said team owner Bob Woodhouse. "We need to keep raising the bar until he is in a position to podium consistently."
Ritch Marziale, who finished 14th at Long Beach, clocked in at 13th in the standings. Welch's teammate, Jeff Courtney, scored a tenth-place finish at Long Beach, overcoming a hard-luck Sebring outing in which he finished fifth and earned the Hard Charger Award but was later disqualified after his front axle was deemed under weight during the post-race tech inspection. Courtney is currently 19th in the point standings.
"I'm always glad to come out of a street course in one piece," said Courtney of his top-ten Long Beach outing. "I'm glad to have the #99 KENDA Tires Dodge Viper Competition Coupe come out of Long Beach intact."
ALMS
The sole Viper entry in the American Le Mans Series (ALMS) looks to be in good hands despite a (literally) bumpier-than-desired start.
The Primetime Race Group Dodge Viper Competition Coupe team, featuring owner/driver Joel Feinberg and driver Chris Hall, entered the March 21 ALMS season opener at Sebring on a positive note, clocking in faster than the factory-backed BMWs and Porsches during practice sessions prior to race day. Alas, their luck went south before the checkered flag dropped, and with a top-five finish in sight, no less. After completing ten hours of the race the clutch on the Primetime Viper Comp Coupe failed, resulting in a hard-luck DNF.
The Primetime crew's struggles continued at the next race in St. Petersburg, "not an ideal venue for the torquey Viper, as the tight corners and hard braking points force us to work harder than any other driver on the track," explained Feinberg. A tire blowout in Turn One soon led to a close encounter with the concrete barrier wall, resulting in another DNF. But Feinberg and Hall's luck would soon change at Long Beach.
"Primetime's dedicated team hustled to get the car back to race ready condition within a week for our next race out west," said Feinberg. "The Viper ran strong and handled great at the Tequila Patrón American Le Mans Series at Long Beach race. We managed to find 5.338 seconds from 2008, which goes to show our program is continuing to develop and remain strong when competing against factory efforts. We logged a seventh-place finish, which was like finishing on the podium after the unfortunate mishaps at the first two races. As the only Viper in the American Le Mans Series, I look forward to delivering the Viper community much success throughout the ALMS season.
Formula Drift
Team Mopar® driver and two-time Formula Drift (FD) champion Samuel Hübinette had a nice surprise for the Viper Nation, showing up for the 2009 Long Beach season opener back in the seat of his Mopar Dodge Viper SRT10.® Mopar announced late in 2008 that Hübinette would debut a new Mopar Drift Dodge Challenger for the 2009 campaign, but after the "Crazy Swede's" team owner, Shaun Carlson, suffered three heart attacks in February, a bit more time was needed to put the finishing touches on the Mopar Challenger.
The decision was made for Hübinette to steer his trusty Viper at the first two events of the year, Long Beach and Road Atlanta, with the Mopar Drift Dodge Challenger making its debut at the New Jersey event in June. It wasn't a very tough decision for Hübinette, who captured FD championships in 2004 and 2006 behind the wheel of a Viper, as well as a 2008 runner-up showing in the standings.
The combo of the Viper and the "Crazy Swede" posted their customary podium-worthy performance at Long Beach on April 11. Despite winding up an uncharacteristic No. 12 in qualifying, and with an extra round of judged tandem eliminations added to the FD program, Hübinette mowed down the field on his way to the runner-up spot on the podium. He repeated that performance one week later on the Streets of Long Beach, taking a runner-up finish in the Team Drift exhibition—where he was paired up with a Corvette (hey, sometimes racing makes for strange bedfellows).
"If you're on the podium today in Formula Drift, you did something right, because it is hard to do with the level of drivers battling it out now," said Hübinette. "So big thanks to Shaun Carlson and the NuFormz Racing team for all their hard work. I'm very happy."
A day at the track in a Viper—who wouldn't be happy!