By Darren Jacobs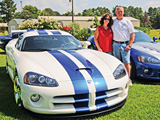 Get ready to be knocked off your feet. We're not kidding. You might need to sit down for this one. For though VCA members are accustomed to the grandiose and the spectacular, well, they ain't seen nothing until they've seen this.
Meet Wayne and D'Ann Rauh, both in their early fifties and both members of the Mid-South VCA. The couple owns a 28-acre spread in the small town of Arp, Texas. And on that spread sits an astonishing 29 Vipers—with two more ordered and on the way! All belong to the Rauhs, proud owners of the largest personal collection of Vipers in the world, proving the old saying true—everything is bigger in Texas!
Exactly how big is the Rauhs' collection? Big enough they actually lose track of the number of Vipers in their possession! Wayne first numbers the collection at 27, until D'Ann corrects her husband with the exact roll call of 29.
"Yeah, he was wrong," D'Ann says. "Good thing you talked to me."
So how does one (or two, in this case) build such an enormous den of Vipers? By slowly adding Vipers, painstakingly piecing together the collection over many, many years, right? Nah! The Rauhs snapped up their Viper haul in a little less than three years, beginning in late 2006. The rapid proliferation of their mini "Viper Nation" is nothing short of remarkable.
"When the Viper first came out, I saw one and always wanted one," Wayne recalls. "I started looking at buying one real hard in 2002, but I never did. Then in 2006 I bought my first Viper. We've gathered them up since then. I really fell in love with them." Wayne, prodded by D'Ann, overcame his initial reluctance—with a vengeance.
"I encouraged Wayne to buy one," says D'Ann, who was actually an avid car collector long before her husband caught the fever. In fact, D'Ann currently parks 15 Vipers in her garage, compared to Wayne's 14.
"He always wants mine," D'Ann says, with a laugh. "He always tries to copy off me, and I tell him no. He's got his Vipers; I've got mine. We don't share!"
"I've been trying to play catch up for awhile," says Wayne of matching his wife's Viper total. "I haven't caught up yet. She likes being ahead, so I think I'll let her stay ahead. We each have our own garage for our Vipers. My garage is smaller."
The Rauhs' first Viper was a VOI.9 Special Edition white-with-blue-stripes purchased from John Gastman's Roanoke Dodge in Illinois. In fact, almost all of the Rauhs' Vipers have been purchased from Gastman (that's got to be one happy Dodge dealer), who the couple cited as a friend and a big help in assembling their collection. Wayne also purchased a yellow-with-black stripes Viper for his wife during his first Roanoke visit. After the couple sold their personal business and retired in April 2007, their pursuit of Vipers kicked into hyper drive.
"We were very fortunate. We were able to sell our business for a substantial amount of money a few years ago," says Wayne. "We've just put it in cars. We're full time about cars now."
Wayne begins to reel off just a few of the Vipers the couple owns: "We just got two new yellow '09s with silver stripes. We just picked them up last week. We've got several '08s. I don't know the exact number. The oldest Viper we have is a '95. We have one of the Spiderman promotional Vipers from '02. We've got about every color combination. D'Ann has an '09 ACR, I've got an '08 ACR." The Rauhs sing the praises of Scott Miller at Fifth Dimension for the body work on their Vipers and of Tony Venzano for handling duties on the interior. The Rauhs make sure their collection sees plenty of action. "There are days where I will drive three or four of them," says D'Ann.
The Rauhs' Brobdingnagian-like stable of Vipers draws eye-popping, incredulous reactions from VCA members—an impressive fact, considering many own multi-Viper car collections themselves. But they can't match the Rauhs, who collect Vipers like Imelda Marcos collected shoes.
"Most of them can't believe it," admits Wayne, with a chuckle. "It's just really hard to believe. Unless someone asks, I never say how many we have. People are really shocked. Twenty Vipers from the Mid-South club came down in May to the house to check out the collection and they were amazed. As hard as it was to get me to buy the first one, if someone would have told me I would have this many, I wouldn't have believed them."
Will the collection keep expanding? Does the sun set in the West?
"I don't know if we've got a sickness for them, or what it is," states a perplexed sounding Wayne. "But we're addicted to them. We're planning a building that will hold another 23 cars. I don't know if we're going to buy that many, but I know we already have two more Vipers coming, and we have another at our lake home in Oklahoma. We're so full on room here."
D'Ann has the final word on when the collecting might end: "I don't know. When they stop building them?"