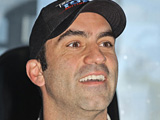 Albuquerque, N.M., native Jason Daskalos hails from the Southwestern U.S., but he won't soon forget his recent trip up north to Canada's Mosport International Raceway. Daskalos powered his No. 5 Daskalos Developments Dodge Viper Competition Coupe to his first career SCCA SPEED World Challenge GT win on May 17 at Mosport.
Daskalos gridded second but wasted little time in slithering to the front. He passed pole-sitter Randy Pobst on the standing start, in the process earning the AutoWeek Move of the Race Award. Daskalos proceeded to lead the entire 30-lap event and claim the win in only his 22nd SPEED GT start.
"It's amazing to win," said Daskalos, the 2006 Viper Racing League champion. "Honestly, it's a dream come true. When I started out in World Challenge, in my rookie year, it was tough to even get into the top 10 and we worked hard and it's paid off. I'm thrilled."
Daskalos followed up his inaugural triumph with a sixth-place showing at Watkins Glen on July 4 and an impressive fifth-place result at Road America on Aug. 16. At press time Daskalos was the highest-ranked Viper-powered SPEED GT driver in the standings, just outside the top 10 in 11th-place.