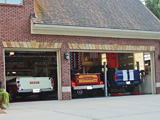 Jim Elser's sanity is in question.
Now, don't get the wrong idea. The Marietta, Ga., resident doesn't talk to himself or take visits from little green men. His 59-year-old mind runs as well as a Viper V-10 engine. But to some his collection of Vipers and Viper memorabilia is a bit, well, extreme. Funny thing is, Elser would be the first to admit—and proudly—that he's got Viper on his mind!
"Most people say I went off the deep end with so much Viper stuff," says Elser, cheerfully. "Most people find it unbelievable you can collect so many things to go with a car." (These people are most definitely not VCA members).
Elser, owner of a small building maintenance company, has been a member of the Georgia VCA since the club was formed in 1997. The loyal Chrysler and Mopar® enthusiast purchased his first Viper in 1993, sparking a life long passion for the Snake.
"I'm a diehard Chrysler person and I have been for years," Elser explains. "I had a Dodge Stealth, and when I heard they were building the Viper, I sold the Stealth and bought my first Viper back in 1993. My brother still has the car today."
The former Georgia VCA vice president is certainly a Dodge boy through-and-through. His collection features three Vipers—a '96, '06 Viper Coupe and '09 Viper ACR. He also owns a 1957 Dodge Sweptside pickup, '78 and '79 Lil' Red Express trucks, '96 Dodge Ram Indy Pace Truck and 2004 Viper-powered Dodge Ram SRT10®—one of only 50 built.
The collection isn't limited to the four walls of Elser's garage. His basement is also brimming with memorabilia—and cars. He houses five of his Mopars in a car vault in his basement. "The whole basement is Viper and Mopar—that's what it's all about," states Elser emphatically.
Elser's memorabilia collection can stack up with that of the most fanatic VCA member. Finding a spot in the basement or garage not covered with a piece of Mopar or Viper paraphernalia is downright impossible. Diecasts, Matchbox cars, banners, posters, pictures—if it's got a Viper or Mopar logo, Elser has it—or is trying to get it. He's been assembling his collection since the mid-1980s.
"I'm still looking for things on eBay every day," Elser says.
All told, the Georgian's basement-and-garage Viper shrine clocks in at a highly crammed 5,000 square feet. Craftsman tool boxes line the wall of his basement, and the garage accommodates a DoubleParkTM Cytech 4-post lift.
As for the time and money spent on his Viper domicile? Well, that's a topic Elser would rather avoid—especially if his wife, Ann, happens to read this article.
"I don't know," he responds, hesitantly, to the "how much" question. "A lot of money. Probably more money than I want to know. It's one of those things you don't want to keep up with—especially if your wife figures it out."
We have some bad news for Ann—Jim isn't finished adding to his collection just yet.
"It keeps going," says Elser, who has attended every VOI except one. "Some day I'm going to build another garage to hold six more cars. I said the Viper I just bought might be my last, but, hey—who knows what the next model might be!"
The verdict is in, Mr. Elser. You are definitely crazy—Viper crazy. And that's the best kind of crazy to be!