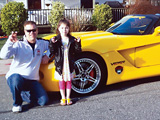 My wife works at the Leroy L. Wood Elementary School in Fairhaven, Mass. They were having a spaghetti dinner to help raise funds for their field trip this past spring. The school also asks people to donate things or services that they could use to raffle off to raise funds. My wife mentioned to me that it would be a cool idea to have a raffle for driving a student to school in a Dodge Viper. I would like to say that the ride in the Viper raised the most money, but I was competing with the gym teacher donating his own childhood scooter, and that was a tough act to beat. Well, we'll just call it a tie.
Kristen Plante was the student who won. She is a 6-year-old first-grader and was so excited that she was getting a ride in a Viper. One of the first things she said to her mom was, "What am I going to wear?" Man, they start young! When I picked her up at her house, I showed her how to do the fangs greeting. We arrived at school with all sorts of fanfare; kids were lined up along the fence for over 100 yards. I enjoyed myself as much as she did. I told her I would write a letter to VIPER Magazine to see if they would print this story and maybe send her a copy for a souvenir. This would be another way to put a smile on a child's face.
Richard Desrosiers
Fairhaven, Mass.

It's always nice to hear about a youngster's day being made. We'll be sure to send souvenir copies. Thank you for sharing this story with the Viper Nation!—Ed
Viper at the Pass
I'm from Switzerland and already a member of VCA Switzerland. Here's my Viper on the pass of St. Gotthard in Switzerland. The photograph was taken in late May.
Best regards,
Ruedi Gisler
Unteraegeri, Switzerland

That's a cool shot of your Viper! Thanks for the correspondence and for your interest in VIPER Magazine.—Ed.
How Bad Have You Got It?
We just wanted to shoot you photos of our Dodge family—thought the readers might enjoy it. We own three graphite color Dodge vehicles. A 2005 Dodge Ram, 2005 Dodge Magnum SRT8® and a 2005 Dodge Stratus. The Ram and Stratus are our daily drivers; the Magnum is only used if we get company or go on a trip.
Now for the real toys:
?Emerald Green w/tan interior 1994 RT/10
?– Plate reads SNAKBIT1 for Gen 1,
?Sapphire Blue w/silver stripes 2001 GTS
?– Plate reads SNAKBIT2 for Gen 2,
?White 2004 Mamba SRT10® – Plate reads SNAKBIT3 for Gen. 3.
You heard the NASCAR slogan "How bad have you got it?" Well, I even have the Viper Emblem on my golf cart.
Don Smith
Concord, N.C.

Yes, you've got it bad. But that's a good thing! All the best!—Ed.
We want to hear from you!
We value your input. Please feel free to send any questions, comments, or constructive criticisms to:
VIPER Magazine
P.O. Box 2117
Farmington Hills, MI 48333-2117
E-mail: [email protected]