By Don Firth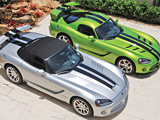 My wife, Eunice and I both own Vipers. We actively participate in South Florida Viper Club activities and drive on the tracks at Sebring, Homestead and Palm Beach, Fla.
Here are photos of Eunice and myself at the Biltmore during a Viper Tennessee rally, our two Vipers and two members of our office staff posing with our newest Viper.
I purchased my silver Viper in 2005. I went to an auto showroom to buy a Ferrari and drove away in a Viper—never regretting the switch in plans. A few months later I added a supercharger from Doug Levin Motorsports, which boosted the power to almost 800 hp. I participated in annual track events at Sebring with Skip Thomas and Danny Archer as well as HookedOnDriving, FARA, ERME and Chin.
In 2008, Eunice drove my Viper at Sebring and Homestead tracks. As she started as a novice, we were in two classes and were able to slip-seat my Viper for these events. Then in 2009, she advanced to the same class that I was driving. The only solution was to get a second Viper.
Eunice had glimpsed the Snakeskin Green Viper one evening, a year earlier, and decided that was the car for her. I went online in May 2009 to find that there were only two such cars available in the USA. One was 1,500 miles away; the second was 20 miles away. She bought it sight unseen from University Dodge in Fort Lauderdale. This was the only Snakeskin Green produced with the black stripes, spoiler and splitter. After only 7 months, she already has 10,000 miles on the clock.
We enjoy the Viper experience, which includes day-to-day driving, track events and even drag racing. However, the best experience is the new friends we have made during the Viper Club events.