Story by Maurice Q. Liang
Taking a look at Viper ACRs in miniature form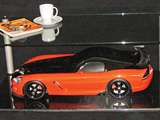 Now you can experience the thrill of racing a Viper ACR in miniature form with these latest Viper toys. Whether it's the wicked wing or the distinctive paint job, the ACR has caught the attention of toy manufacturers and spawned a renewed interest in Viper toys. Since the real ACR is a driver's car, it seems only fitting that most of these miniature versions are action toys, rather than detailed static models.
Fastlane's Remote Control Viper
Drive your own ACR with this large, 1/18 scale (about a foot long) remote control car made by Fastlane (large model shown on page 39). The remote control is a unique "scroll and go" control, rather than the usual trigger and steering wheel. The plastic toy is well-proportioned for a remote control car, though it's certainly not attempting to offer the detail of a diecast model. It's available for $45 at Toys 'R Us.
NKOK'S Pocket Rocket
Want something more affordable? Try NKOK's 1/64 scale Viper ACR remote control cars. These rechargeable pocket rockets are small enough to fit in your pocket, but offer you full remote control functionality. Typically, they sell for around $20 on Amazon.com. These remote control cars come in the introductory red with black hood and red driver's stripe, or GTS blue with black hood. Despite being a plastic toy, it has fairly accurate proportions, as it sits at the front of the row of ACRs beside the track.
Hot Wheels
Remember when you used to play with Hot Wheels cars on that signature orange track, rather than keep them boxed up in mint condition? Well, you still can! A buck will get you a Hot Wheels ACR in one of two paint schemes (so far), the introductory red with black hood and red driver's stripe or white with black hood and red driver's stripe (both versions shown sitting on the track in the picture). At the time of this writing, the white version is more rare and hard-to-find than the red version. Though the paint scheme is not exactly accurate (the roof, decklid and front bumper should also be black), these toys are a great giveaway at car shows to Viper fans young and old.
Johnny Lightning
If you're willing to spend a little more (as in $3), Johnny Lightning offers the ACR in the same 1/64 scale, but with a more realistic look. This diecast model features an opening hood with "detailed" engine inside. Thus far, the Johnny Lightning version comes in three color schemes: the classic red with black hood and red driver's stripe, all-black with a red driver's stripe or white with a black hood and red driver's stripe, shown beside the track in the photo. Johnny Lightning also offers the standard 2008 Viper coupe in several colors in this scale. All are available at Target and Toys 'R Us.
The Ultimate Viper Model
This could be the ultimate Viper model. It's certainly the biggest! The 1/4 scale model is huge, resembling a wind tunnel test model that car manufacturers use. Accurately modeled by former Saleen designer Alan Eggly and his partner "Big Joe" Randazzo, it's made out of fiberglass and can be painted and detailed to match YOUR Viper (or your DREAM Viper) using the same paint that the real cars are painted with. Right now, it's only available in Viper SRT10® coupe and Viper SRT10 ACR form, though if there's enough demand, High-Performance Furniture will consider modeling the older Vipers. Don't have a shelf or display case big enough to house such a large model? High-Performance Furniture also offers a matching coffee table made from glass and carbon fiber to act as a display case, or you can order a ?half-model mounted on a carbon fiber plaque, so you can hang it on the wall. Photos ?don't do this model justice. Around 40 inches long, the sheer size is impressive in person. Prices start at $999 for the wall-mount model, $1699 for the model by itself, and $1999 for the model with the coffee table. Just like the real car, optional equipment like the ACR wing, stripes and black wheels are additional cost. If you've been searching for the ultimate gift for the Viperholic in your family, this is it! Available from Partsrack.com.
Flying Off the Shelves
These ACR toys are popular, so often, they disappear off the shelves quickly. As with most Viper toys, they likely won't be made for very long, at least not in the current paint schemes, so if you want them, get them now and save yourself the headache of searching for them later, when they're even harder to find! The real ACR is likely to be one of the most rare and coveted Vipers of all time, and these toys will be just as rare and collectible!

Maurice Q. Liang is co-founder of the Viper Club ?of America, author of the ?Viper Buyer's Guide, and an ?avid collector of "Viperabilia." ?He can be reached at [email protected].