From Garbage Dump To 'Garage Mahal'
By Darren Jacobs
Michael von Quilich's garage was a dump.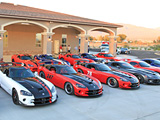 Okay, to be accurate, the Nevada and Southern California VCA member's garage itself wasn't a dump. But the land on which he decided to build his dream home and Viper garage—oh yeah, that was a dump.
How did von Quilich and his lovely wife Virginia come to make like Bugsy Siegel and transform a barren spot in the desert into a dream palace? The explanation is simple: They got Snake bit. The couple purchased their first Viper, a 2006 blue and white SRT10® coupe (#114, nicknamed "True Blue") in late 2005, and soon came to the realization they needed a proper space to display their Snake. It was time, in the words of Michael von Quilich, to build a "Viper Garage Mahal."
Once the von Quiliches decided to make their Viper "nest" in the Las Vegas area, the search was on to find a suitable piece of land to build their garage and home. The hunt proved difficult at first.
"We figured that five acres would be sufficient, but finding suitable acreage in Las Vegas proved difficult because most of the large parcels were developed years ago," recalls Michael von Quilich. "Just about every remaining piece of buildable land we looked at in the Las Vegas valley was underneath the noisy incoming and outgoing flight paths of the busy Las Vegas airport."
The Viper prodded the couple's search for land, and the muscle car also helped end it (what doesn't this car do?). Michael and Virginia took part in their first Viper Days event at Spring Mountain Motor Sports Ranch in Pahrump, Nev., and found that the rural town just 60 miles northwest of Las Vegas was a charming spot offering ample choices of prime acreage. It also didn't hurt that Spring Mountain, a world class country-club style track facility, was nearby!
In December 2006, Michael found what he considered the perfect location in Pahrump, facing Mt. Charleston. It was five acres littered with 20 years' worth of junk and garbage, including a rusted out trailer and a burned down workshop—a rather interesting choice, to say the least. As Michael recounts, "Virginia and I picked our way through the debris. I said to her, 'Honey, we've found our property!' Virginia responded with an incredulous look that said, 'Are you kidding?'"
Michael soon swayed Virginia to his vision. "We went back to the car and I drew out a sketch of what we could do with the property and then she got excited, because the property was perfect," he says. Work soon commenced to clear out the heaps of trash on the site—moved with a skip loader that filled fifty giant dump trucks, each 40 feet long!
The von Quiliches' vision for their garage was ambitious. "I wanted something really different and functional, not just a big box type structure, so buying somebody else's ideas was not considered," says Michael von Quilich. "Just like starting a new family, we planned additional room for more Vipers in the future."
Obviously, the requirement list for this baby was going to be long and detailed. It had to be large enough to accommodate multiple cars, a large trailer and a pick-up, with room for two lifts, and space to store parts, tires, rims—you name it.
"We love to entertain, so there had to be room for a 'Viper Car Bar' with a kitchen, a bathroom/shower and a washer/dryer to clean car towels," says Michael von Quilich. "I didn't want to be forced to back out with the car trailer, so I designed the garage to have a 'drive through' capability, with dual 14-foot high roll-up doors on each end plus 16-foot ceilings for plenty of clearance for high trailers and motor homes.
"To make it easy to move cars in and out without moving the trailer, I wanted three more garage doors on the long side of the building. Completing the layout, I designed two separate gated asphalt entry points from the street that connect to oval shaped paving behind our home that Virginia and I call the 'race track.' Paving encircles our home and garage, eliminating tight turning radiuses for trailers when coming and going."
How important was the garage to the von Quiliches? Consider that construction on their garage began in January 2007; construction on their home commenced later, in June 2007. This is a couple who definitely have their priorities in order—the Viper comes first!
The von Quiliches spared no expense during the build. Specialized construction equipment was trucked in from Las Vegas to help ensure the foundation footing was level. A giant cement conveyor was employed, with two cement trucks simultaneously pouring cement onto the conveyor. The huge roof trusses were so large they were built in two sections, with a full-size crane brought in to set them in place.
"I wanted the floor in the garage to be perfectly level so we could do suspension set-ups without compensating for an uneven floor," explains Michael von Quilich. "I hate drop lights, so I told our electrical contractor that I didn't want to see shadows, even if a car was on a lift at night. He installed more than 180 four-tube florescent light fixtures inside and outside of the building."
The garage, an 85-foot wide and 120-foot long Viper cathedral, was finished in late September 2008, just in time to welcome new Vipers into the "Garage Mahal." The von Quiliches purchased two additional Vipers, a Gen IV Viper Coupe for the street and a Viper ACR for the track. A third Viper came rather cheaply—for the price of five VCA Raffle tickets! Yep, the lucky couple won the "1 of 1" Viper raffled off in 2008 at VOI.10 in Detroit.
Their Viper mansion complete, the von Quiliches have hosted many events at their luxurious Viper digs, including the Nevada VCA's 4th of July Independence celebration and a special Viper weekend at Spring Mountain the couple organized for Nevada, California and Arizona VCA members. Twenty-eight Vipers were in attendance at that event. "We love to see all the beautiful Vipers parked in front of our Garage Mahal," Michael von Quilich says.
The von Quiliches better get used to it. With a Viper garage like theirs, they should plan on a lot of company!