The VM Interview: Ralph Gilles

Ralph Gilles was a budding design student at the College of Creative Studies (CCS) in Detroit back in 1991 when he first crossed paths with the car that would play a prominent role in both his professional and personal life. Spying the Dodge Viper at the Detroit auto show, Gilles instantly realized which automotive company he wanted to work for —Chrysler Group LLC (then Chrysler Corporation).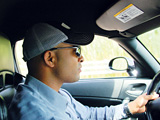 The native of Canada joined the Pentastar gang in 1992, working in the design office. He rapidly ascended the corporate ranks, and in 2009, at the ripe old age of 39, Gilles was named Dodge Car Brand President and CEO while retaining his previous role as Senior Vice President ?– Product Design, Chrysler Group LLC.
Despite his high-profile post on Chrysler Group LLC's Management Team, Gilles remains humble, insisting the VM cover photo focus not on him but on the Viper. A card-carrying member of the Viper Club of America, Gilles is a car and racing enthusiast at heart, with a deep and abiding passion for the Viper and the VCA. He recently squeezed a few precious minutes into his ever-hectic schedule for a chat with VIPER Magazine.
VM: Growing up in Montreal, did you know your future involved cars?
RG: Definitely. Montreal was a bit of a race town, because of the Formula 1 race. In the summer, the weeks leading up to the race, all the people talked about was racing cars. You could go downtown and hear the cars testing. That was an influence. French Canadians in general are very big fans of motorsports, especially with Gilles Villeneuve being a very respected legend in the late 1970s. Between hockey and Formula 1, that's all that was talked about.
VM: Were there any particular former Chrysler Corporation vehicles that sparked your interest in a career in automotive design?
RG: Of course. There were still some muscle cars running around. But I grew up in the unfortunate '80s. There were some not-so-good-looking cars back then (laughs). There were still some 'Cudas running around back then, and also the Omni GLH, which I loved when it came out in the mid-'80s. That was a pretty notable car at the time. It was the first to do plus-two size wheels. It had oversized tires and wheels for its size, a turbo engine and it was all black. It was a neat little number, a cool little car in its day. That kind of showed to me the tongue-in-cheek nature of the company. They didn't take themselves too seriously—the name GLH stood for "Goes Like Hell."
VM: When did you first become aware of the Dodge Viper? What was your first reaction to the iconic sports car?
RG: I saw the car at the Detroit Auto Show in 1991. I was already a student in Detroit at the time. I saw the car on the stand, and I was like, "Oh my God!" It was so beautiful. A couple of years before, Chrysler had the Portofino, a four-door Lamborghini-inspired super car, which really stopped me in my tracks, as well. Then with the Viper—I fell in love with the concept. It was so bodacious, so low-slung and cool, and it managed to be very American.
VM: Since joining the former Chrysler Corporation back in 1992, how much direct involvement have you had in the evolution of the Viper's design?
RG: Not as much in the beginning. I was observing the creation of the GTS, which was fascinating. The Roadster was pretty much already cooked when I got here. The GTS was being born, so I used to go to the studio every night and check it out. I had nothing to do with that particular one, but I loved the vehicle.
I did the interior on the 2003 version. It was already pretty much done, near the end of the Roadster's development. I took over managing the project and tried to do some tweaks toward the end of its life. And then I managed the Coupe design.
VM: What element of the Viper's design ?in which you were involved are you most proud of?
RG: I would say the Coupe, the Coupe version of today. I really fought to get that. The Coupe was never really planned. They weren't going to do a Coupe again. We ended up building a model to show the senior management, and the model itself got everyone excited about it, so we really wanted to make sure the 2006 Coupe happened. And, of course, I'm proud of the ACR. That car really is just the love of motorsports pouring out from the SRT® team.
VM: Talk about your first experiences with Viper Club of America and your thoughts on the Club's passion for Viper and Chrysler Group LLC products.
RG: My first impression of the Viper Club was in September 2002 at the Viper Owners Invitational in Nashville, Tenn. I was blown away by the magnitude of that event and how big it was, the attendance level, the generosity of everyone and how they got along. They didn't really know who I was, so I was just blending in. I had these random conversations with a variety of owners. It was cool to see how they came from different walks of life. Some were exceptionally wealthy businesspeople, while others were just folks who had made it happen somehow because they love the car so much. They all got along and were exceptionally friendly, warm people. It was fun. They didn't care that I was a nobody. They would just tell me stories about their cars.
The other opportunity I had to get to know the owners was at the autocross event (VCA vs. SRT). We would do it every year, and that's when I really got to know the hardcore guys. I got invited because of my autocross skills and my road racing hobby. It was kind of fun to see the owners, who were so proud to be there because they were the best of the best, the top people from around the nation. I'm still friends with them to this day. I'm good friends with the Illinois club, who tend to be the most active in those events.
VM: You yourself are a Viper owner. Tell us about your Vipers and whether this personal connection to the car helps you relate to the needs of Viper owners?
RG: A 1997 Coupe was my first Viper. I bought it used in 2002. It needed a lot of work so I restored it. I really loved that car. I sold the '97 and bought a '08 ACR, which I still have now and which I love. That's all I can afford. I'm jealous of those people who have multiple cars (laughs). I used to have a lot of different types of cars, but I sold them all just to buy the ACR.
It's fun to live with the car. You get the hand waves, even in Detroit, where the car is seen probably a lot more than other places. You still get a lot of attention, a lot of great feedback, a lot of conversations with people in gas stations. When I bought the '97 Coupe, I flew to Texas. It was January, in the wintertime, but there happened to be a three-day clearing in the weather, so I thought, "Hmm, I'll drive it up from Texas." I'll never forget it. I drove it up, and everywhere we went it was like we were rock stars. I'd never been in a car like that in my life, and here I am, people are coming up to me in gas stations in the dead of winter, cops are looking at me funny, giving me the thumbs up. The minute I got in that car and took that road trip, already the affection was starting. It was hard to deny the power of that vehicle. Then I had to put it away for the winter. It was so sad. I couldn't drive it until April.
VM: What challenges have you faced in taking on your new role as Dodge Car Brand President and CEO, in addition to your position as Senior Vice President – Product Design, Chrysler Group LLC?
RG: Of course, it's tough. I find myself just adding hours to my work days. I'm really driven to make this thing work. I'm excited to see the company be thoroughly successful. That is what's driving me now. Yeah, I get tired once in awhile, but I can see the light at the end of the tunnel, and it's shining so bright I can't wait to get there. This has been a long journey for us. We've been waiting a long time to have this opportunity. It's really fallen into place beautifully with Fiat. Everyone is on our side helping us. We've never been better positioned than we are now. I'm really excited to be a part of that.
In the meantime, as far as design, I make time for design. My team in product design does a nice job of bundling everything so I can digest it in a day, versus two days or three days. They're working around my crazy schedule. The same is happening with my Dodge team. They realize that I'm new to the game, and they're doing everything they can to make it easy for me to pick up. There's so much talent there, it's not so hard. As long as I have enough time to absorb and give decent direction, the rest just happens.
VM: The Dodge Car Brand continues to evolve, including the recent decision to split Dodge Ram into a stand-alone brand. What role do you see Viper playing in the revamped Dodge Brand lineup?
RG: If everything plays out, I think it (the Viper) has a very significant role. The Dodge Car Brand is about being youthful, feeling younger than you are, being iconic, being outwardly American and having fun. I think the Viper does all those things. Even though we don't sell in every country, the Viper is internationally known. Everyone knows what the Viper is.
You might not know this, but the Viper is the favorite car in the Forza Xbox video game. There's an international racing league, and the Viper holds the top-10 positions for the fastest cars. People are choosing it in the video game world. You can see how the power of an icon transcends America, it transcends everyday life. In some ways, the Viper is bigger than us. We have to respect that.
VM: Dodge has introduced a number of special-edition Vipers for the 2010 model year. Can you talk about these special-edition Snakes?
RG: Sure. Some have been suggestions from our owners that they've been yelling at us, so to speak, to have these things created. We're trying our best to acknowledge their desires. There are also things that we have had on the drawing board for years, and we finally said, "What the hell, let's make these things happen." We used unique combinations you'll never see again. Very unique color combinations, unique detailing, and again, a lot were ideas from our consumer base that we tried to realize. And the idea is to keep it special. We know it's the last year of this body style, so we tried to keep them as collectible and as special as possible to really make the owners happy with their purchases.
VM: What was the reasoning behind the special-edition approach as opposed to offering a revamped, larger production run 2010 model?
RG: We didn't start early enough to do that, to be honest. The Viper, as you know, was under duress last year for many reasons, so everything stopped on the development of the car. The engineers kept working on the transmission and the fifth gear changes and little things, but a whole new car was not in the works at that time. So I didn't want to propagate the current car any longer.
And the customers have spoken. The owners have asked for a new car and have been talking about it. I think the car is at its natural zenith point with the current body style. So we'll see what happens.
VM: Were you deeply involved in the ?actual design of the new 2010 special-edition Vipers?
RG: I had to look at every one of them. Some of them are ideas right from our owners, and we were like, "Okay, if that's what they want, that's what they want." For example, the Snakeskin Green ACR was something that we've never built, and people have been dying for us to build it, so we're going to go ahead and make a few. We have the Vooodoo edition, which is a clone of my car, which people have been asking for. We just showed the Vooodoo car in L.A., and one gentleman drove clear across the country to go see it. He put his order in as soon as he came back home. Then there's the Dodge Viper SRT10® ACR-X. (Other special-edition models include the Dodge Viper ACR 1:33 Edition). Everything will be very limited production, very low volume.
VM: You were on hand at the Performance Racing Industry Trade Show in December of last year to introduce the new ACR-X spec series racer. What prompted the creation of this turn-key race car?
RG: I've been racing my own ACR, and I noticed that the car is really damn good on the track! A lot of ACR owners were having a lot of fun with them, and basically just buying the car strictly for track use, almost. I noticed a few owners on the forums debating tearing up their cars, ripping out their interiors, and it's almost a shame to do that, so why not build a car that's made that way from the beginning? And there's a lot of weight we put on for street use that we don't need for track use. It's a formula that's been around for years. Porsche has been doing this for a long time, and a lot of other OEMs have done something along these lines, so we said, "Why not try this out?"
It's actually a cool way to continue the legend of the car. It bothers me when I see the track times of the current car when it's out there. Typically, it's restricted by the sanctioning bodies because it's too powerful. Because it's so powerful, it gets restricted, and its true performance isn't really known. By having a spec series, you can run unbridled and run pretty much the way the car was intended to be, and start setting the lap records that you deserved all along. In a way, the ACR-X is an unbridled version of the Viper. It's amazing. It did exceptionally well at the Sebring test; it was third fastest among purpose built single seater prototype racecars.
VM: You're an experienced racer yourself, competing in the One Lap of America and Targa Newfoundland Rally. Will we see you racing a Viper ACR-X in a Dodge Viper Cup event at any point this year?
RG: We'll see. If I have time I might come in for a guest race, but I don't want to beat all the owners (laughs heartily).
VM: Are there any other motorsports series in which Dodge plans to sponsor a factory-backed Viper in 2010?
RG: We're going to be backing the World Challenge Series, with Kuno Wittmer running for Woodhouse. We've cut a deal with Versus to televise the Viper Cup races, so the owners will get a little bit of light shone on their achievements. We'll have a very modest but decent contingency program for Viper Cup and the World Challenge Series. And Andrew Picard and Samuel Hübinette will also be drifting a Dodge-sponsored Viper and Challenger, respectively, in the Formula DRIFT Series.
VM: Dodge recently introduced a new ?Web site exclusive to Viper, www.viperheadquarters.com. Why was the site created and what sort of content will ?it offer?
RG: I've been disappointed with how difficult it's been to capture all the racing that goes on with the Viper, so we created an all-encompassing Web site that would allow people to keep tabs on the different varieties of racing, any news we may have on the Viper itself, any bulletins on the car. Eventually, I would like to get some retail links on the site with some recommended vendors—Dodge, Mopar®. It's kind of a nice home base that we can maintain. Sometimes I think the owners do a better job than we do (laughs). It's our turn to step it up and do something that's worthy of the car. And it's also a great place to post information on the ACR-X as we develop it. It's a great place to learn about the car. We've had some positive feedback already on the site.
VM: This year marks the coming of another much-anticipated Viper Owners Invitational (VOI). You've attended VOIs in the past. What are your thoughts on this Viper enthusiast event? Will Dodge and Chrysler Group LLC have a large presence at VOI.11 in Salt Lake City, and do you plan to attend?
RG: Unfortunately, we can't have the same presence we've had in the past. Due to our financial situation, we have to be very careful there, but we are doing whatever we can to help the Club. The Club is doing a great job, Chris Marshall and his team are doing a great job of pulling it together. We will definitely have some kind of presence there, and we'll probably end up sponsoring a dinner or doing some token of appreciation for the owners. It won't be on the scale of what we've done in the past, but in true Viper Nation fashion, everyone is pulling together to make this happen. It just goes to show the spirit of the Viper Nation. And I do plan to attend, aside from unseen circumstances.
VM: A lot has taken place at Chrysler Group LLC over the last couple of years—the brief marriage to Cerberus, the rumors of the sale of Viper, the merger with Fiat. Is the new management committed to Viper? Do you feel the Fiat partnership places the Viper on stronger ground?
RG: I have as much to do with the Viper as anyone. I do know they appreciate motorsports and really understand the importance of iconic cars like the Viper. Branding is something that is very important to the new management team. A brand is only as good as its assets, and the Viper is one of those assets, right? We're trying to find a way to make it fit in. We have a lot on our plate, a lot of other vehicles that we are developing, a lot of great programs, and Viper is yet another. I think there's definitely going to be some form of the Viper in the future. When, I don't know. We haven't forgotten about her. As you can tell, the amount of support it's getting this year is indicative of where it belongs in our hearts.
VM: Where does Viper fit in with brands that are now part of the extended Chrysler Group LLC family, such as Maserati and Ferrari? Can we anticipate technological or design cues from these two famed nameplates to show up in future models of Viper?
RG: I don't know. We talk about that a lot, even internally. I don't think there's much overlap, to be honest. The cars are very, very different. There might be some small gizmos here and there that we can trade. I've driven a few Ferraris lately. I like the way the steering feels; I like the way the vehicle responds. They have a nice linear response. Those are kind of lessons learned. We can take away some of the know how, but not necessarily the parts. I think the Viper is a Viper and a Ferrari is a Ferrari. They definitely have some of the best development engineers in the world. We'll just trade notes and see what happens.
VM: Any chance we can squeeze a little info out of you regarding the plans for the Gen V Viper, and when we might see it?
RG: Nuh-uh. Nope!
VM: One last question: It's January 2020. Where do you see Viper?
RG: There will always be a segment of the population that wants a performance vehicle and as the performance brand of the company, Dodge is committed to Viper. While I can't confirm a future 10 years out, I think the Viper could have some kind of electric componentry built into it. As a performance plate, it'll have a green dimension by default, but there's also a huge movement going towards using electric powertrains as a way to improve performance, so I think there's a nice tie-in to the evolution of the Viper that is bound to happen in the next decade or so. So stay tuned on that.