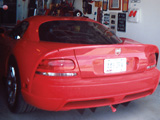 I really enjoyed the story about Mr. Elser's garage and basement full of Viper collectibles in the Fall 2009 issue of VIPER Magazine. My garage is not that nice, but it looks cool. My toys include a 2008 Dodge Viper SRT10®, 2006 Dodge Ram SRT10 with 6-speed manual transmission and 2010 Camaro SS.
Carroll Gerrald
Arizona City, Ariz.
Nice pair of smokin' fast SRT10s, Carroll. We're sure you get a lot of attention driving them. Thank you for the correspondence and interest in VIPER Magazine.—Ed.
Our Little Viper Girl
This is my wife, Gloria's, 2008 Dodge Viper SRT10 with our 12-year-old great granddaughter, Tori Thatcher. Tori's already interested in cars. She is our little Viper girl.
Art Piel
Petoskey, Mich.
Thanks for sharing the photo of your '08 Viper and great granddaughter. Perhaps she'll be a future Viper owner, too.—Ed.
Viper Storage Tips
Hello, I am a Viper Club member. I know years ago you did a piece about long-term (winter) storage. I have looked through my back issues (some missing) and can't seem to find it. It had suggestions for tire pressure and such. Any chance you know what issue that was in? Thank you.
Jim Hengel
Via e-mail
You're referring to a Viper winter storage feature article in the Winter 2007 issue of VIPER Magazine (pages 22–23) titled "Temple of Doom." Unfortunately we're sold out of that issue, but we'd be happy to send you a photo copy of the article. For information about VIPER Magazine back issue availability—$7.00 each while supplies last—visit www.vipermagazine.com/issues or call Viper Headquarters toll-free at (800) 998-1110.—Ed.
2010 Hot Wheels Line Includes 2008 Viper ACR
As a long time subscriber, I am always happy to see a new issue of VIPER Magazine in the mailbox. It's even better when it features such great things as the good news about the rebirth of Viper production. I always enjoy Maurice's updates on Viper diecast, and I did want to throw in that (if he doesn't yet know or have a wall full of) the 2010 Hot Wheels new model line release includes a 2008 Viper ACR in red with black stripes. These are already on the pegs and in my collection now. I'm sure we'll see some paint variants in the future, as Hot Wheels will make the most of a casting, and one this good deserves a long run. Although it's not the newest body style, Green Lights Motor World division has released a 2003 SRT10 roadster in 1:64 (gold/black) as well as a 1:43 in black.
Thanks and continue the great work!
John D. Canfield
Via e-mail
John, thank you for sharing this information as we know it will be of interest to many of our readers.—Ed.
We want to hear from you!
We value your input. Please feel free to send any questions, comments, or constructive criticisms to:
VIPER Magazine
P.O. Box 2117
Farmington Hills, MI 48333-2117
E-mail: [email protected]