Plenty of Viper Racing Action on Tap Worldwide in 2010
By Roger Meiners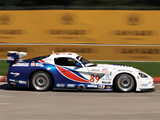 The distinctive bellow of the Dodge Viper will be heard again across the land and around the world this year. The new Dodge Viper ACR-X makes its historic competition debut in the inaugural Viper Cup as the Dodge Viper, Viper ACR and the Viper Competition Coupe will be well represented worldwide during the season. Outside the U.S., the Viper goes against Ferrari, Porsche, Lamborghini, Aston Martin and Lotus for supercar supremacy.

Here's the list of racing events for 2010.
Dodge Viper Cup by NARRA
The newly developed Dodge Viper Cup spec series and the new Dodge Viper SRT10® ACR-X are made for each other—literally. Dodge created the Viper Cup specifically as THE place for X-cars to play. The series will be sanctioned by the existing Viper Racing League. Each vehicle in the new series must be the new Viper ACR-X. The first race is not until July 2010, to give racers time to prepare.
Two races per weekend for five weekends will make up the 10-race 2010 Dodge Viper Cup schedule, to be televised on the Versus cable network. The series dates include July 9–11 at Virginia International Raceway; August 14–15 at Hallett Raceway; September 11–12 at Pocono Raceway; October 1–3 at Miller Motorsports Park and October 22–24 at Daytona International Speedway.
A contingency program sponsored by Dodge Motorsports and Mopar® will pay out more than $200,000 during 2010. Payouts for each race are in cash and Mopar vouchers come as credit toward purchase of Mopar parts and accessories. Additional cash awards will be made to the top-3 finishers in the Dodge Viper Cup. The 2010 champion will win $25,000, second-place will receive $10,000 and third-place will pay $5,000.
---
Viper Days by NARRA
Viper Days is the premier venue for Viper driver education and racing instruction. Viper Racing League is the grass roots club racing and education program, designed to feature the Viper marque and reach out to Viper owners to teach them safe driving skills.
Viper Days, and the Viper Racing League, are venues available to Dodge Viper owners for advanced driver training and competition. Viper Days is "[D]edicated to properly teaching people how to drive a sports car with such an incredible amount of torque and horsepower," according to the Viper Days Web site. The Viper Racing League was created "to answer an increasing demand from drivers who wanted to compete in a wheel-to-wheel amateur road racing series," says the Web site.
---
SPEED World Challenge GT Series
www.world-challenge.com/index.php
The World Challenge Championships, consisting of three separate categories—GT, where Viper competes, GTS and Touring Car. World Challenge is America's top production car-based series, according to the Sports Car Club of America.
SCCA SPEED World Challenge events, to be telecast on the Versus network in 90-minute programs, feature standing starts and the world's most popular manufacturers racing head-to-head. SCCA SPEED World Challenge competition was born in the mid-1980s with the SCCA Endurance Championship, transforming into the World Challenge in 1990.
World Challenge veteran Jason Daskalos of New Mexico and rookie Canadian Fred Roberts have formed a two-car team to compete in the 2010 World Challenge. Daskalos will be in his third year in a Viper Competition Coupe. Roberts is eligible to be Rookie of the Year this season, since he has only run three races in the series over the last two years. He was Rookie of the Year in the Viper Racing League (VRL). Daskalos is also a veteran VRL driver—winning the stock class championship in that venue. Both drivers started their racing careers in the VRL.
---
Australian GT
Australian GT, the premier sportscar category in Australia, plays host to Ferrari, Aston Martin, Porsche and Viper, racing door to door on some of the world's greatest circuits. The Dodge Viper GT3 ranks include Rob Sherrard, Greg Crick, Ross Lilley, Ian Palmer and John Briggs—all in Viper Competition Coupes. The season kicks off at Adelaide the weekend of March 11–14, 2010, followed by events at five other tracks in Australia.
---
Brazilian GT3 Championship
An eight-race series including Dodge Vipers running against Ferrari, Porsche, Lamborghini, Aston Martin, Ford GT and Corvette. At least five Vipers will compete in 2010.
---
British GT3 Championship
The Avon Tyres British GT championship showcases the most prestigious and stylish sportscar grid of any national motorsport Championship, according to its Web site. The 2010 season will have an eight-date, 14-race, calendar featuring a season-closing "into the night" race at Donington Park and a two-hour race on the Grand Prix circuit at Silverstone. There will also be a return to the world-famous Spa-Francorchamps circuit in Belgium this year.
Avon Tyres British GT Championship race winners Craig Wilkins and Aaron Scott are set to return to the series in 2010 with their mighty GT3 Viper Competition Coupe—rebuilt from the ground up by a new team of technicians—and they have outright championship success as their target.
Wilkins and Scott were title contenders last season right down to the wire and netted memorable race victories at Spa-Francorchamps and Knockhill, plus a further five podium finishes. Their season might have turned out very differently but for mechanical dramas in a couple of races.
---
SCCA Club Racing
The Viper, Viper ACR and the Viper Competition Coupe are all eligible for competition in SCCA Club Racing. Since 1944, SCCA has put on road racing events nationwide. From National Championships to regional events, whether professional or amateur, the club organizes, supports and develops auto racing at every level and provides an outlet for the Viper owner to get out of the armchair and into the action. So, whether your passion is autocrossing, rallying or road racing as a professional or as a weekend warrior, SCCA will help you fuel your passion.
See the SCCA organizational map at www.scca.com/divisions.aspx to find your local SCCA region. Call the regional representatives to get involved.
---