Story and Photos by Maurice Q. Liang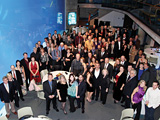 Club members from the Northern California Region and Central California Region returned to the Monterey Bay Aquarium for their annual holiday party in November. The huge, million-gallon tank provided a magical soft blue glow to the room, looking like a giant IMAX screen view of the undersea world of Jacques Cousteau.
"This event was our most popular holiday party in 2006," said Events Director Terri Angen. "So we decided it was time to come back." Food stations and a bar were set up around the aquarium to encourage club members to stroll around and check out the exhibits. A special exhibit showcased the Secret Lives of Seahorses. "It's so nice to have the place to ourselves and not have to fight the crowds to see everything," said one club member.
Joining them was special guest Steve Sharples, Viper Marketing Manager. "This is incredible!" he said, speaking both of the aquarium and the stunning ocean view outside his hotel room. At a presentation earlier in the day, Sharples gave members a preview of the 2010 and beyond Viper plans, ensuring Viperholics that the future of Viper was safe.
The Angens created some amazing centerpieces. In keeping with the Monterey Bay theme, the centerpieces were a diorama of a Viper sitting on a wharf overlooking the beach and the ocean. The "wooden" dock was actually machined from aluminum and anodized to look like wood—and featured working street lamps and Christmas lights. At the end of the event, the centerpieces were auctioned off, raising $1400 for the Brian Angen Memorial Foundation charity.
Afterwards, club members continued the party next door in the lounge of the InterContinental Hotel. "We had a great time at the party. What a beautiful venue!" said Bob Rand. It was a great way to start the holiday season!