New Mexico VCA Charitable to the Corps
By New Mexico VCA President Michael Shepherd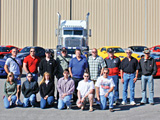 For two years the New Mexico (NM) VCA has supported the U.S. Marine Corps Law Enforcement Foundation, which supports the families of Marines or law enforcement personnel that were killed on duty while serving our country at home or abroad. In 2008 we donated $3,000 to the foundation, with funds raised by the approximately 50 car entries for our Roadrunner Fun Run. The highlight was the Poker Run, which started with our NM Vipers, followed by a Ford GT, Bentley GT, Lamborghini, Corvettes, Porsches, Cobras, and a lot of other specialty cars. The three best poker hands won handcrafted trophies, and another 15 lucky entrants won various door prizes.
In 2009 the NM VCA donated $3,250 to the foundation. The Marine Corps Law Enforcement Foundation has distributed aid with a value of more than $25 million to eligible children of fallen Marines and law enforcement personnel. One hundred percent of all donations received are distributed to families. Our Club has only 35 members and has raised more than $6,000 in two years. Despite the relatively small size of our club we have had overwhelming success in helping our law enforcement and Marines.
The 2009 Roadrunner Fun Run event featured a dozen Vipers, a big rig, and a helicopter from Enchantment Helicopter coming together for a photo shoot to kick things off. We had 124 people participate in the '09 Fun Run. Each entrant received a custom photo taken in front of all the Vipers. Once again we had a variety of interesting vehicles show up: Ferraris, Ford GT 40s, Cadillacs, Corvettes, Dodge Challengers, muscle cars, trucks, classics, hot rods, imports, and even a few classic motorcycles. How about a Mazda RX 7 with a V-8?  Or what about a '68 Dodge Charger with a Viper V-10 engine? Yep, they were there too.
After everyone was registered and pictures were taken, we set out on the Poker Run through Albuquerque. The event included seven quick stops, with the closing event featuring the prize for the best poker hand. Many door prizes were given out by Sandia Tram, Unser Museum, Pete's Hair Cuts, Sandia Raceway, AutoZone, Stoneface Bar & Grill, and Sandia Area Federal Credit Union. Special thanks to Motiva for its four dyno pulls and the $300 charity donation. Special thanks also to Bennie Martinez, Steve Tarro, Jan Hogstrom and Bill Rodway for their efforts in making this a successful event.
In 2010 the NM VCA will be giving to charity again. This time we will stage our Roadrunner Fun Run at the multimillion-dollar Sandia Casino in Albuquerque. On May 16 we will have more than 100 cars shown in the Sandia Casino ballroom. There will be vendors, food and music. The Poker Run will start in the parking lot of the Sandia Casino and at the end of the day there will be prizes awarded. Each participant in the Poker Run and the car show will help donate $25 to charity. We hope to see you at this exciting NM VCA charity event!