By Maurice Q. Liang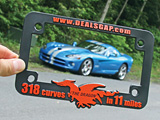 Three hundred eighteen curves in 11 miles. Car enthusiasts, bikers and tourists flock to the Tail of the Dragon to experience this wonderful stretch of road. I have long wanted to drive the Tail of the Dragon and see the Smoky Mountains I'd heard so much about in country songs, so when VCA AL/TN president Chip Winter and the Viper Twins invited me to join them for this year's event, I couldn't resist. What better way to experience the place than with a bunch of Viper friends?
The event has become an annual thing, drawing Viper club members from Tennessee, Georgia, Utah, Florida, and yours truly from California. We converge at the Cracker Barrel restaurant in Knoxville, Tenn., for the start. It's a mini-car show for anyone who happens to be driving by. A shiny twin-turbo V-10 sparkles under the hood of Matt Chambers' silver SRT10® convertible. With 1250 rear-wheel horsepower, it's one of the most powerful Vipers here. As a joke, I add another bolt-on—a battery-operated gerbil running around on a squirrel cage treadmill. "1250 HP + 1 GP (Gerbil Power)," laughs Chip. The waitress learns that I'm from California and says with a southern accent, "Well, ur a looong way from home!" To which I reply, "Yes, but look at all the friends I have!" That's the neat thing about the Viper club. A couple of my new friends are Ed and Faye. Ed was one of the original owners of McDonald's restaurants, and together with his partner, invented the famous slogan, "Two all-beef patties, special sauce, lettuce, cheese, pickles, onions on a sesame seed bun." Talk about a piece of American history, right here in our club!
After breakfast, it's time to head up the mountain. We pull into a turnout for a group photo. I take off ahead in my rented Camaro to scout out a good photo spot. Three hundred eighteen curves, 11 miles, 34 Vipers, one Challenger and one Camaro, and guess who gets pulled over for speeding! Fortunately, Officer Millsaps is in a charitable mood and lets me off with a souvenir "time slip," rather than a ticket. As I settle into my roadside perch, one-by-one the Vipers roar past up the hill. At the end of the Tail is the "Tree of Shame," decorated with parts of fallen motorcyles. We stop for a break and people swarm over to check out the cars.
Headquarters for the weekend is the Shular Inn in Pigeon Forge. Just as we arrive, the heavens open up and an afternoon downpour begins. Perfect timing. We huddle under the overhang and watch Mother Nature rinse off our cars. Once the rain goes away, it's off to the Alamo Steakhouse for dinner. After dinner, we head over to a go-kart track.
The morning sun comes up, turning up the color intensity on the Vipers as owners are wiping down their cars. Passersby check out the cars, and several club members give rides to young enthusiasts. Out in the parking lot, I meet Ben and Missy, and their kids Austin and Rochelle. With two Vipers, they're a family that Vipers together. Missy got her Snakeskin Green convertible first, and then Ben decided that was pretty cool and added a Viper Violet convertible with the aero group. At first, they were hesitant to join the club, but after meeting club members at last year's event, they felt right at home. "Viper owners are neat people," observed Missy. "We went to a Corvette gathering, and the owners spent most of their time trying to keep people from touching their cars. But when a kid comes up to a Viper owner, pretty soon, the door is open and they're sitting in the car." Chip gives Viper fan Adam a ride to the gas station, and I give Adam a copy of my Viper Buyer's Guide. Perhaps we've planted a seed today for a future Viper owner.
Today we're heading up to Clingman's Dome, the highest point in Tennessee. Near the top, we stop for a group photo. From 6600 feet, you can see forever. The mountains are layered upon each other. Bright green turns to dark shades of green, which turns to shades of blue. Now I see where the Blueridge Mountains get their name! An older couple is enjoying their picnic lunch with the breathtaking panoramic view in front of them. It's picture postcard perfect and stunning.
That evening, the Viper Club of America shuts down the main street of Gatlinburg, as 40 Vipers cruise into town for dinner. Tourists stare, and cameras pop out as if Paris Hilton had just arrived, sans underwear. Jon B from PartsRack has donated gift certificates, which Chip awards to those who have driven the furthest, those with the least miles on their car, and those with the most miles. Viper earplugs are given to the two "Most Loud AND OBNOXIOUS" Vipers. And I've dug into my Viper treasure chest for some raffle prizes to hand out.
After dinner, we visit the "Cars of the Stars" auto museum, where we see famous cars like Herbie the Love Bug, James Bond's BMW, Bob Hope's country club convertible, the Flintstone mobile, and Burt Reynolds' Trans Am from Smokey and the Bandit.
The next morning, after a big country breakfast, we mount-up and head out of town. Chad has arranged a stop at the Knoxville Hooters for lunch. We take some photos of the Hooters girls around Bill's Hooter Orange Viper. (What? That's not the name of the color?)
It's been a fun weekend—kind of like a mini-VOI—Vipers on twisties, a great bunch of people and wonderful scenery. The next time you're traveling, see if there's a Viper event going on. It might be a great chance to visit some of your "Viper family!" "It's just beautiful here in the fall, during the color change," says Viper Twin Lisa. Well, I jess might have to come on back for that, y'all.