Classic Celebration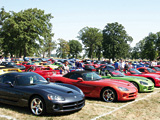 What a blast! I have to admit, I wasn't totally pumped up when I heard VOI.10 was being held in Detroit—but I've never been so happy to be proven wrong. From the first-class accommodations at the Motor City Hotel, to the tour of the Conner Avenue Assembly Plant to our cruise along the Detroit River, the event was just one highlight after another.
My thanks to Dodge, the VCA and all the sponsors who made VOI such a success. I'm keeping my fingers crossed we see an announcement for VOI.11 someday soon.
Max Falzone
Charlotte, N.C.
Relief At Last
I purchased my Viper (a 2003 convertible) about six months ago and while it has been a source of tremendous pleasure, it has also led to a lot of frustration. I mean, when I get to 70 mph in the first three gears, what am I supposed to do with the other three? The car wants to go, but I had to keep reigning it in. That was, at least, until the Viper Owners Invitational.
I can't tell you how thrilled I was to be able to take my Viper out on the road course at the Chelsea Proving Grounds or on the drag strip at Milan. Finally, my Viper was able to do what it was meant to—go fast! I wanted to add, however, how much fun the Caliber SRT4® head-to-head challenge was. Those cars are incredible. I attached a photo my wife took. You don't need a Viper to have fun—but it sure helps.
Ted Cooke
Hillsdale, Mich.
The Best Ever
I've been to a number of Viper Owners Invitationals in the past, but for a number of reasons, I've missed the last few. So I didn't really know what to expect when I came to Detroit for VOI.10. I know things haven't been great in the auto industry in general and at Chrysler and Dodge in particular, so I was wondering if all the outside pressures would cast a pall on the proceedings. I'm happy to say the Viper Nation didn't let me down.
The Viper ownership group is truly a special collection of people. You can put together all the racing events and banquets you want, but if you don't enjoy the people you're with, what's the point? The people who own Vipers and drive Vipers are among the friendliest and nicest folks in the world. Being with them in Detroit made me realize what a mistake it has been for me to miss any of these special events. If there's a VOI.11, let me know. I'll be there.
Greg Hite
Huntingdon, Pa.
CORRECTION
Due to an editorial oversight, the Steering Angle column in the Fall 2008 issue of VM contained text that was not approved by Kipp Owen. VIPER Magazine apologizes for the error.
May the Force Be With You
There are a lot of reasons to go to VOI, but for someone like me who doesn't like to race my Viper (my baby is too precious to subject to that kind of punishment), I find pleasure in other areas. The biggest kick I get is from seeing the hundreds of Vipers, in a blaze of color, all parked together in one place. I took this photo at the parking corral on Belle Isle before the Detroit Grand Prix and I think it's a good example of what I'm talking about. Seeing these Vipers out in force sends a message to everyone who wanders by—there's nothing like a Viper.
Bruce Renton
Cincinnati, Ohio
One Question
OK, I made it back home from VOI and have finally settled down into my day-to-day routine. There's just one thing I want to know—when is the next one?
Paul Widman
Boca Raton, Fla.
VIPER Magazine
P.O. Box 2117
Farmington Hills, MI 48333-2117
E-mail: [email protected]
Web: www.vipermagazine.com