By Darren Jacobs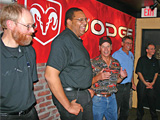 Each year, Mopar® and Chrysler Group LLC roll out one of the hottest displays at the Specialty Equipment Market Association (SEMA) Show in Las Vegas, exhibiting parts, engines and "Moparized" vehicles so outrageously modified that eyeballs have been known to pop out of their sockets. But while SEMA Show attendees count the Mopar exhibit as a can't miss stop, the Mopar and Chrysler Group contingent working the event have their own must-attend engagement in Vegas: the annual VCA SEMA dinner, hosted by the Nevada VCA.
The 2009 dinner, organized by Nevada VCA president Marko Radosavljevic, took place on Wednesday night, Nov. 4, as Viper owners and Mopar/Chrysler Group representatives dined at Tony Roma's near the Las Vegas Convention Center. Members from VCA regions as far away as Europe (we're talking about you, Colin Herd!) turned out for the event, which has been a mainstay at SEMA since the mid-1990s, according to Radosavljevic. The Nevada VCA issues an open invitation each year to any Chrysler Group LLC employee that wishes to attend the dinner and speak to the club.
Following a delicious meal of ribs, steaks and seafood, Viper owners participated in an informative Q&A session with Dale Aldo, Coordinator–Performance Parts, Mopar; Ed Arthur, SRT® Performance Parts Program Manager; and Joe Vitous, SRT & Motorsports Aero-Thermal Manager. The brief session was beneficial to both groups, according to Aldo.
"We not only explain the new products that we've come out with, but the VCA makes suggestions on new parts also," says Aldo. "It's a two-way street. We talked to the group about the new Viper ACR upgrade kit (see story on page 6) that is now available, and a bit later a Viper owner (Nevada VCA member Michael von Quilich) also made a suggestion on a retro fit fan kit, which we are now looking into making into a performance part. Even though it's a very high-line car with tremendous performance potential and a tremendous performance package, Viper owners are still interested in tailoring the car to their own desires and tastes. They want to personalize the Viper and increase the performance potential.
"It's always a pleasure to interact with such a loyal and enthusiastic group of consumers. They drive one of the most exciting vehicles ever produced. We look forward to getting their input to create more excitement in parts and accessories."
Echoing Aldo, Radosavljevic raves about the annual chance to visit with the people who help build the VCA's baby—the Dodge Viper.
"We love having the Chrysler folks come out and keep us posted on the new products and new information that's coming out," Radosavljevic says. "We heard about some new parts on their way and we also gave some feedback of our own. It was nice seeing all the folks from Mopar and Chrysler. We always seem to meet new people who are coming out for the first time."
"It was a treat, just talking and listening to those guys," said von Quilich, a member of the VCA since 2005. Scheduled to take part in a drag racing event at Irwindale Speedway in California soon after the SEMA Show, von Quilich was gifted with some insightful advice from Aldo during dinner.
"I received some very helpful tips from him," said von Quilich. "He told me when I see the second yellow light (at the starting line), drop the hammer. Don't wait for the green!"
How many car clubs can brag that they receive drag racing advice from their manufacturer? Not many, we'll wager. The VCA SEMA dinner is just another example of a fact long understood by Viper owners—the Viper Club of America is the greatest car club in the world!
"I strongly urge the VCA members to get involved in their club," exhorted Wedel. "The more you give, the more you get back. Once you experience that giving and how much you get back, I highly recommend taking it to the next level and volunteering as a Zone Director, Director at Large and then on to the National Board."