A New Viper in the Valley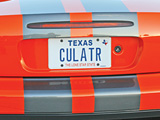 Hello, I currently reside in southern Texas and take pleasure in reading VIPER Magazine. As I have always envied Dodge's amazing Viper machines, I have dreamed of owning one someday. That someday came one day in October 2008. I was shopping for a very Viper orange Dodge Viper convertible with charcoal racing stripes and found that quantities in the United States were limited. I located one in northern Colorado and managed to make a deal with a dealership. Having only seen a few pictures of the vehicle, I purchased the vehicle and had it shipped to me in an enclosed car hauler.
Anxiously awaiting my new Viper's arrival, the shipping company notified me and I rushed home to meet them. As they unloaded the vehicle I was speechless. I recall sitting in the vehicle for an hour in the garage doing nothing other than hoping I would not awake from a dream. As time has progressed so has my volume of work. Unfortunately, I am not able to drive it as much as I would like, but I do take the occasional weekend trip down country roads and every once in a while to South Padre Island's Texas beach.
At age 32, I can say I have owned many fast and amazing machines. However, I can honestly say nothing has ever given me a rush quite like a Viper. I love the publishing of custom Viper license plates in your magazine and thought I would share mine in the hopes that maybe one issue it will be published as well.
"One day with the top down is better than a lifetime in a box …"
J. Matthew Eckert
Via e-mail
Congratulations on taking possession of your first Viper! It's always nice to see enthusiasm, like yours, for Dodge and the Viper. And we know you'll be able to enjoy longer driving seasons (with the top down) than most Viper owners, living in the Texas Rio Grande Valley.—Ed.
Viper Soccer Team
Here are some tough Vipers—my daughter Camilia's age ten and under AYSO (American Youth Soccer Organization) team. Lia—short for Camilia—is standing to the left of the banner. The expressions are an attempt at showing me their mean faces.
Patricia Jimenez
Menlo Park, Calif.
Thanks for sharing the great photo of your daughter's Viper soccer team, Patricia. They all have their game faces on and look fearless! Perhaps seeds have been planted today for future Dodge Viper owners.—Ed.
First Viper RT/10
[[article_two_image]]I've been a new Dodge Viper RT/10 owner for over a year! My Viper's features include: 13″ EBC Sport Slotted and Dimpled Brake Rotor Set, EBC Greenstuff Pads, Harland Sharp 1.7 Ratio Roller Rockers, MSD 8.5 mm spark plug wires, Billy Boat Performance Exhaust with 3″ high-flow cats, American Racing Headers – 1 5/8″ stepped up to 1 ¾" primary tubes, Hurst shifter, Clutch lower kit, Fidanza fly wheel, Centerforce clutch, Paxton supercharger and 42 lb. fuel injectors.
I've loved Vipers since I was a kid. Here's a photo of my license plate. Do you feel it fits my Viper? I love VIPER Magazine and wish it came out every month. Keep up the great work!
Piero Zito
Via e-mail
Absolutely! Great license plate, Piero! Thank you for sharing the photo and mentioning all the modifications to your RT/10.—Ed.
We want to hear from you!
We value your input. Please feel free to send any questions, comments, or constructive criticisms to:
VIPER Magazine
P.O. Box 2117
Farmington Hills, MI 48333-2117
E-mail: [email protected]