By Darren Jacobs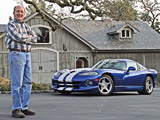 When charter Northern California VCA member Dick DeLuna needs to get his mind straight, he doesn't head to the psychiatrist. Instead, DeLuna visits one of his three garages—dubbed "Toy Boxes"—to chill out among his astounding car collection, including a 1996 Dodge Viper GTS. It's just what the doctor ordered.
"It's my therapy," explains DeLuna. "I don't play golf, I don't play tennis. I collect cars."
DeLuna, 71, owner of a collection agency and a resident of Woodside, Calif., bought his first Dodge Viper in 1993 and his current one in 1996. The Snake joined a truly amazing car collection.
"Toy Box 1" is a 5,000 square foot barn that on the inside morphs into an architecturally astounding car cathedral, with a congregation of more than twenty cars. "Toy Box 2" is a 7,000 square foot warehouse in San Carlos, Calif., just minutes from Woodside, where DeLuna displays assorted foreign and American cars, maintains a working shop and stores his racing rig, motor home and race cars. DeLuna also uses the standard garage at his home (we'll call it "Toy Box 3") to house vehicles he is currently driving, or "playing with." All told, the collection encompasses around 45 vehicles, "Everything from tractors to Doodlebugs," according to DeLuna.
"Toy Box 1," the barn-turned-car museum, is undoubtedly the most awe-inducing edifice in DeLuna's garage stable. It boasts completely finished all-wood floors and ceilings, spread out over two levels and surrounded by a remarkable array of car memorabilia. The top level is home to pre-war vehicles; post-war gems take up the downstairs. The barn often plays host to tours by car clubs and organizations.
"One visitor said, 'It's a beautiful home with cars in it,'" recalls DeLuna.
"Toy Box 2" includes an oversize lift accompanied by a variety of other garage equipment and tools. The facility features 24-foot ceilings, large enough to accommodate the oversize automobile signs accumulated by DeLuna, an admitted automobilia addict.
"Toy Box 1" and "Toy Box 2 " are 15 minutes apart, a fact that is no accident. "That way, I can drive all the old cars on city streets without going on the freeway," says DeLuna, who spends about 2-to-2 ½ days in his garage per week.
DeLuna bought his first collector car in 1981. The collection has grown by leaps and bounds, and now includes a number of Chrysler classics.
"I'm a big Mopar® fan," says DeLuna. "I have a 1936 Dodge Woody that has been hotrodded with a Mopar small block Magnum® engine. I also have a 1943 Jeep® Willys, 1948 Chrysler Town & Country, 1950 Willys Jeepster, 1946 stretched Skyview taxi cab, and my daily driver is a Dodge Magnum."
With so many cars to choose from and so many garages in which to store them, one might wonder if DeLuna's Viper gets lost in the shuffle. The answer, of course, is no (this is the Viper we're talking about, after all!).
"The Viper is my American muscle car," raves DeLuna. "I like brute American horsepower. I want something that is fun to drive, and that's the Viper."
In fact, chances are good that one more Viper might be joining DeLuna's collection.
"That's a very definite possibility," says DeLuna. "I could see myself owning a Viper Competition Coupe. They look like they're going 200 miles per hour before the key is turned on. That's a car that excites me."
If he does snap up another Viper, DeLuna faces a conundrum: Where to put it? "Toy Box 1," "Toy Box 2," or "Toy Box 3"? It's a question DeLuna will surely enjoy answering!