By Roger Meiners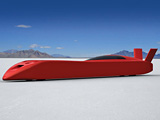 On January 26, 2008, NHRA Top Fuel drag racer Doug Herbert, of Lincolnton, N.C., experienced every parent's worst nightmare—his two sons, Jon, 17, and James, 12, lost their lives in an automobile accident. Herbert, trying to make sense of the tragedy, decided to form a non-profit organization that would focus on safe driving. He wanted to help prevent other parents, friends and families from enduring the pain of losing a loved one to an automobile accident.
Herbert partnered with Jon's classmates from SouthLake Christian Academy in Huntersville, N.C., to create a name for the safe driving foundation. The students chose B.R.A.K.E.S. – which stands for Be Responsible and Keep Everyone Safe. It is a 501(c)(3) charitable organization that, among other things, sponsors driving instruction for young people. For more information, visit www.putonthebrakes.com.
Meanwhile, on a parallel course, Doug and his father, Chet, the famous hot rodder, land speed record pioneer and speed parts pioneer (remember the Herbert roller camshaft?) decided to build a streamliner to break the absolute record for wheel-driven vehicles powered by internal combustion engines. And what better engine to use than the vaunted Viper V-10? The Herberts thought so and installed two, just to be sure.
Unfortunately, Doug's dad passed away this year and will not be able to witness the results of the project. But Doug is pressing on, with the aid of none other than Ray Evernham the lengendary NASCAR crew chief and team owner. In fact, they are calling this the Herbert-Evernham Land Speed Record (LSR) Project.
And what of those Viper V-10s? Displacement is 512.66 cid. Superchargers are F3 Procharger. They're using Striker cylinder heads, CP Pistons, Oliver rods and Winberg crankshafts. Compression is 8.5 to 1 and projected horsepower is 2,000 per motor. 
Follow the LSR team's progress at www.lsrproject.com.
Look for updates on the project in future issues of VIPER Magazine as well.