By Margie Yost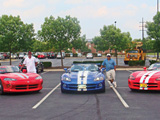 I would like to formally introduce you to someone you may have met at a VOI or various Viper events held by the VA/MD and PA/WV clubs. His name is Carlos Ugaz, Sr.
Carlos has been a Viper owner since 1996, when he bought a red 1994. About a year later, he began changing the look of the car with custom paint and new interiors to reflect his unique style and taste. Very few off-the-shelf customized parts were available for Vipers at that time, so Carlos designed, and in many cases created most of the parts himself.
On the interior, he has changed the instrument and door panels, consoles and seats. On the exterior he has changed the decals, replaced the exhaust, and added a unique spoiler. The finished result is an attractive, cohesive design that flows well with the Viper look and untouched components of the car.
Whenever Carlos drives his Viper, he is questioned by admirers. They never focus on one specific element, but seem to be struck by the overall package. "Can I take a picture of your car?" he is often asked. People even hold cell phones out of car windows to capture the image. This puts a smile on his face, as it would any of us.
While the cars draw a crowd today, there were lessons and challenges along the way. For example, when Carlos replaced the exhaust for his first Viper, he did not realize until the car was raised on jacks that a metal cover concealed the entire underside. He knew the removal would be a lot of work, but with determination it was finally completed—not just once but twice. The first set of exhaust pipes was too loud so he had to replace them with a specially designed pair that had a better sound.
To add to the Viper family, Carlos ventured out and bought another Viper, this time a red 2004 convertible. With ten years between the designs, the two Vipers looked quite different. And as Carlos worked on the '04, the differences between the cars increased. Carlos modified some vehicle appliqués into snake-eye covers for the headlights. When looking at the front of the car, it looks like a snake is staring you down.
In 2008, Carlos bought his third Viper, a blue convertible. When the car was delivered to the house, he went right to work taking everything apart. The seats were still covered in plastic from the dealership. He hadn't even driven the car yet and there it was, in pieces. With more than ten years' experience, Carlos is a pro at Viper customization.
As with any work of art, the artist is never satisfied. Carlos continually thinks of new ideas for customizing his cars. Every weekend, he can be found at the parts shop, dropping off or picking up finished parts that he has designed.
This past July, Carlos drove the red 2004 to Carlisle, Pa., for the 2009 Carlisle All-Chrysler Nationals. A couple of days later, he was notified that his Viper won first place in the 2002–2009 Viper Coupe/Roadster category. In 2008, he took third place in the same event. For Carlos, these were fulfilling accomplishments.
As Carlos travels to club events, the question he hears most frequently is, "What have you added to your car?" Being original has always been a part of his personality. He has attended four VOI events and loves looking at the different Vipers and talking to other owners.
Two years ago, my husband and I finally talked Carlos into selling us his 1994. At least he still gets to see it. I am sure deep down he wanted to keep it. Now as a family we enjoy the regional Viper events and VOIs together. And now my husband and I are asked about the car wherever we go. I just smile and say, "My dad custom made it."
Carlos still owns two Vipers and the only challenge for him and his wife Judy is to decide which Viper to drive that day.