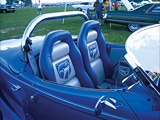 This 1936 Auburn Boattail Speedster features a 2000 Dodge Viper crate motor (460 hp, 500 lb-ft of torque) that is mated with a Viper 6-speed transmission. This custom beauty was hand-built over a period of four years by Brad Videen of Cambridge, Minn., and his brother Greg.
"Special thanks to my brother Greg Videen, Stan Berg and Mike Speidel for their guidance and talented help in completing this car," said Brad. "Greg has fabricated countless parts, was the chief technical guide, and did all of the tig and arc welding. Stan took my body work to a final finish, and Mike worked with me on multiple projects during the course of construction."
Other Viper modifications include: Viper seats with custom leather by Venzano Automotive (Mich.); adjustable Viper pedals (narrowed), "SUPERCHARGED" factory hood emblem modified to read "VIPERCHARGED;" Viper oil cooler, 2 ½" high flow custom stainless exhaust, Viper headers; Borla mufflers and crossover pipe; Viper steering column with tilt Viper wheel; and the paint is '96 Viper GTS Blue Pearl Metallic.