Viper'n in Northern England
By Graham Lambert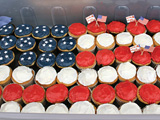 July 4 is just an ordinary date to us Englishmen, but not so in 2009 as this was the date the UK Viper Club had their 4th annual Northern Viper Run (NVR) or "Peak Raid."
A bright sunny morning saw eight Vipers, a Ram SRT10® and a Holden Monaro congregate at a hotel on the outskirts of Mansfield ready for the 150-mile drive through the Peak District—Britain's first National Park. Taking part in two stages over the course of the day, the driving was split equally either side of lunch. However, this was not just a leisurely drive through stunning scenery; there was a purpose to this outing—winning the NVR '09 Trophy for the best score in
the road quiz. Puzzles, observation, general knowledge and Viper silhouettes all had to be found somewhere on the route.
The 68-mile morning drive began near Mansfield taking us via Hardwick Hall, an Elizabethan country house and through the grounds of Chatsworth House, home to the Duke and Duchess of Devonshire. After taking in some fabulous scenery on the western side of the Peak District, we arrived at the Three Acres Inn near the Emley Moor TV transmitter station for an excellent buffet lunch. Many thanks to Andrew and Jenny for supplying the American flag cake for Independence Day and managing not to squash it with the spirited driving!
The 70-mile afternoon drive took us through quintessentially English villages, such as Holmfirth and Glossop, attracting huge amounts of attention from young and old alike. The most dramatic part of the route took us over the famous Snake Pass at 1710 ft and through the heart of the Peak District and finally onto the Brimington Hall Hotel near Chesterfield.
For the evening, a private function room was booked for dinner and presentation of the prizes for the days road quiz. Andrew and Jenny Blackmore were once again worthy winners, regaining the trophy off yours truly! Afterwards a few beers and well earned sleep ready for the Sunday drive to the Muscle & Crab pub where Bruce and Alison once again put on a superb lunch for everyone.
This fantastic weekend could not have happened without the dedication and organizational skills of Mich and Suzie Simcox, for which we are all very grateful and look forward to NVR '10!