Fall 2008 – Viper Road Trip
By Nancy Ann Friend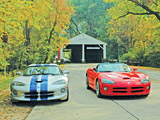 In October, my husband Larry and I took our annual fall road trip with our two Vipers. We traversed eight states in seven days. We both love to drive our Vipers, so consequently, the 2000 miles did not seem extensive. The first site we visited was Brown County, Ind. After a day and a half there we moved onto the great Smokey Mountains. At the Biltmore Mansion in N.C. the security guards were very accommodating and allowed us to park in front of the mansion for a picture or two. They then led us to our own private parking spots.
That night at the hotel it started to drizzle and while we were unloading our luggage the driver's door on my Viper would not close. It was late and we both knew repair shops would not be open. We couldn't keep the door open all night in the rain. Fearing that we would break the door if we pushed too hard, we decided to call our Dodge dealer, Roanoke Motors in Ill. It was late there, but as usual, John Gastman answered his phone and was there to help us. He assured us that this had happened before and that the piece in the hinge would break before the door would. Larry pushed until the door closed. This is not the first time we have sought the help from Roanoke Motors. We are fortunate to have such an accommodating dealer.
The next day was rainy and we didn't expect to see much. While in Tennessee my Viper veered right, but luckily it happened at an exit ramp. I had trouble controlling the Viper until I arrived at Bristol Motor Speedway. Being huge NASCAR fans we just had to tour as much of the track and museum as we could and it proved to be an unexpected highlight of our trip.
Another thrill was crossing the Appalachian Mountains in W.V. and Ohio using only the back roads. All day our Snakes slithered their way around sharp curves, switchbacks and steep grades. We really put our Vipers through their paces thus testing the legendary handling of these cars.