Viper Fans to the Core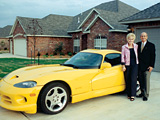 Harlen and LaDonna Core love their Vipers. We proudly drive a yellow 2001 GTS/ACR around Oklahoma City and enjoy our Oklahoma Viper club very much. Our club president, Jon Hansen, plans a great schedule of luncheon meetings, shows and races, as well as an annual party at Christmas. This Christmas party has always had a Viper theme.
Harlen just had his 76th birthday. Believe it or not he loves to drag race in his 1966 Plymouth Valiant. This little Plymouth has a 440 cid engine and runs in the eleven second class at a local raceway. The yellow Viper runs in the twelve's and is pure stock with street tires. Harlen also drove in the SRT® Track Experience at Texas Motor Speedway where he won first place in the drifting contest. He also drove Vipers with other Viper club members at the Phoenix, Ariz. Chrysler Proving Grounds in timed road races.
The picture shows our stable of Mopars in our front yard. We drive a Chrysler 300C for family driving. We pull the drag car with a Quad Cab® HEMI® Ram. We purchased one of the last built SRT10® Viper pick-ups in November 2006. This truck is one fine ride. It is loaded with the comforts of life such as navigation, Sirius radio and Bluetooth. LaDonna enjoys driving it because it's a comfortable, fast, smooth-driving truck. The plates of the yellow Viper read: SP D Core. The Viper pick-up simply reads: VIPER 2.
We look forward to each issue of VIPER Magazine. Thanks for considering our pictures.
Harlen and LaDonna Core
Oklahoma City, Okla.
In considering your photos, Mr. & Mrs. Core, we came to the conclusion that you possess one very impressive collection of lawn ornaments! If only we could be so lucky. We especially appreciated the heading of your letter: "Mopar® or No Car is the Core Motto." Funny—that's the motto at VM as well. — Ed.
Blue Christmas
Merry Christmas to the entire staff involved in VIPER Magazine. It is an excellent publication that is not only informative but very creative. If it fits your format, please insert the photos (or license plate) in a future issue. Thanks!
Don Sterly
Gurnee, Ill.
[[article_image_four]]
Although this issue hits readers' mailboxes in the spring, at press time an abundance of ice and snow has kept every one at VM headquarters in the holiday spirit. We thought we'd feature one of the many warm season's greetings sent in from the Viper Nation. Thanks a bunch, folks—it sure beats hate mail! — Ed.
Correction
The chart listing the color totals of 2008 Vipers, featured in the Winter 2009 issue of VM, was incomplete. The full chart is included on page 32–33 of this issue. VIPER Magazine apologizes for the error.
We want to hear from you!
We value your input. Please feel free to send any questions, comments, or constructive criticisms to:
VIPER Magazine
P.O. Box 2117
Farmington Hills, MI 48333-2117
E-mail: [email protected]