Fantastic Vehicle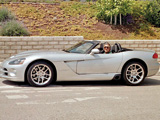 In reading your recent issue of VM (Winter 2009), I was impressed and most thrilled to see the display of personalized license plates from various states.
Thereupon, I took a picture of my 2003 Viper SRT10®'s rear license plate to submit for your consideration in a subsequent publication.
Furthermore, it has been one of the greatest pleasures in my life to spend time driving this wonderful machine. Everyone that has been seated beside me has also enjoyed the exuberance and exhilaration that comes with the ride.
I would like to take this opportunity also to commend you on the wonderful job you and your staff have done in bringing this fantastic vehicle to light. Keep up the good work!
Sincerely,
Raymond J. Bucci, M.D.
Simi Valley, Calif.
Thank you for the kind words about our publication, Dr. Bucci. Regarding the Viper being a fantastic vehicle, we could not agree with you more.—Ed.
VM Back Issue
Could you send me a PDF of the Winter 2009 issue of VIPER Magazine? My friend would like to view this issue. She doesn't want a hard copy.
Thanks,
Laura Sullivan
Via e-mail
Laura, the Winter 2009 issue of VIPER Magazine is available online at www.vipermagazine.com/issues.—Ed.
So Many Combinations
I found the article about the 2008 model year Viper production in the spring issue of VIPER Magazine very interesting. WOW, 121 different paint and body combinations. I didn't realize there were that many possible combinations.
Best Regards,
Chris Moleski
Via e-mail
You're not alone, Chris. There were many VIPER Magazine readers that were amazed at the number of possibilities for paint and body combinations.—Ed.
Viper Plant
I heard the Viper plant is operational. That's fantastic! It's music to my ears.
Sincerely,
Heidi Stender
Via e-mail
After being idle for over three months, the 392,000-sq-ft Conner Avenue Assembly Plant was temporarily operational. However, as I write this letter, the plant is idle again during Chrysler LLC's reorganization.—Ed.
Connor Avenue Assembly History:
Built in 1966, the plant was purchased by Chrysler in 1995. Dodge Viper production began in May 1992 at the New Mack Assembly Plant and was moved to Conner Avenue in October 1995. Prowler production began in May 1997 and ended in February 2002. Viper V-10 engine production transferred from Mound Road Engine to Conner Assembly in May 2001.