By Roger Meiners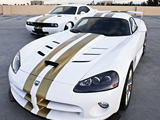 The cities of Scottsdale, Ariz., and Carlisle, Pa., each hosted "firsts" in the world of the Viper this year. The two events were widely separated geographically and worlds apart in terms of publicity.
Scottsdale in January saw the Serial #1 50th Anniversary Hurst/Viper unveiled at the Barrett-Jackson auction. The satin-gold Viper (with gloss black stripes) sold for a record-breaking $250,000 to Tammy Allen of Grand Junction, Colo., as a cluster of cameras recorded the floodlit scene. The media glare was for a good cause: The profits from the sale were donated to charity by the Woodhouse Auto Family—exclusive dealers for the Hurst/Vipers.
Carlisle, by contrast, was the almost-anonymous debut of the first regular-production white/gold Hurst/Viper, the Serial #3 car after the two gold ones (see the Summer 2009 issue of VM—the story on Tammy Allen). It appeared quietly and parked amid a sparkling rainbow of Conner-built Vipers at the Carlisle All-Chrysler Nationals. It wasn't there long before it fled the scene as a thunderstorm approached. We grabbed a photo of this beauty before it escaped.
These special Vipers are among fifty snakes being built by the Woodhouse Auto Family and Hurst Performance Vehicles. The Hurst/Viper will be available only in Hurst's legendary color combinations of black-with-gold stripes and white-with-gold stripes.
The Hurst/Viper consists of a $25,999 option package which includes Moton Club Sport adjustable coil-over suspension with Eibach springs; Corsa track exhaust and a Hurst HARD-DRIVE® gold pistol-grip shifter. All cars come with special Hurst forged aluminum wheels. Each wheel is stamped with the car's VIN number.
Cosmetics include Hurst design painted stripes, a special Katzkin charcoal leather interior with Hurst embroidered logos, gold thread detailing and perforated leather inserts. The package also gets custom embroidered mats and a custom car cover. Each vehicle is fitted with a serialized number plate.
Bill Pemberton, Woodhouse Viper and SRT® specialist says, "The suspension set-up and the Corsa exhaust is fitted by Woodhouse Dodge. Because this is a joint Hurst/Woodhouse venture, other options like Belanger Headers, Quaife rear end and beyond can be installed by Woodhouse. In fact each Hurst/Viper built so far has been a unique car."
The Woodhouse Dodge store in Blair, Neb., has been number one in new Dodge Viper SRT10® sales for the past 8 years. This dealer also has extensive experience in modifying Vipers, including supercharging. Woodhouse was recommended to Hurst by DC Performance, a Viper tuner in Los Angeles. Woodhouse and Hurst also collaborated on the Hurst/Challenger—Woodhouse Dodge is the exclusive dealer for all supercharged versions of this model.
Hurst was founded in 1958 to manufacture transmission shifters (think Linda Vaughn draped over a giant Hurst shifter riding on the back of a Hurst/Olds). Hurst Performance was one of the first specialty companies to partner with
OEMs, building the Hurst/Olds 442 back in the 1960s. Hurst built the legendary 1968 HEMI®-powered lightweight A-Body Dodge Dart and Plymouth Barracuda drag racing cars that have dominated their Super Stock class for over 40 years in the NHRA. These HEMI A-Bodies run in the popular Mopar® HEMI Challenge series (See www.moparspeed.com for more info).
The Hurst/Viper is a striking alternative for an enthusiast who wants something special, something that comes with the legend of Hurst and up-to-the minute Viper performance.