By Juli Polak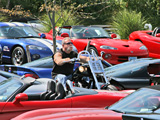 Skeeter Todd, NY/CT VCA Mid-New York events director, is credited for organizing an amazing event at the Orange County Chopper shop. Yes, THE Orange County Choppers. The amazing thing? There were 87 Vipers in attendance that day in Newburgh, N.Y. The Teutuls were unveiling a Dodge HEMI® Chopper to promote the new Dodge HEMI Ram Truck.
Vipers came from all over the Northeast—Maryland, Virginia … hundreds of us attended. No two Vipers seemed to be alike, except two owned by brothers "Matt and Mike" who had matching black 2008 ACRs they both will track. It really was amazing to see that many Vipers supporting the VCA and Dodge, as we want the Viper to continue. Mike Davi took an awesome picture of Paul Teutul riding the newly-unveiled bike through a sea of Vipers.
Also in attendance were CitySnake's beautiful 2008 SRT,® Bob Carroll's one-of-one gorgeous 2008 ACR, and Chuck Tator, also known as the "Viper Wizard," showing the traffic ticket he received while trying to lead the pack to the event. Dan Dibner, AKA "Damn Yankee," created a poster to go with Mr. Tator's ticket. The poster is a testament to the abundance of humor, camaraderie, fun and not-so-serious talk when this group gets together.
The day ended with a delicious luncheon at Torches on the Hudson River. Our return trip to Albany, N.Y., proves that a Viper can slither just fine in the rain.