By Ryan Fox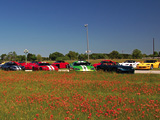 Put on sun shades, because seeing all of the Vipers at the 2008 Annual Texas Viper Round Up was blinding! Just imagine over 60 immaculately waxed, shiny Vipers cruising through the Texas hill country.
As promised, the 2008 Annual Texas Viper Round Up was an event not to be missed. We had folks join in on the fun from all over the country. The person who traveled the farthest was Barb Smith, who drove her Gen 1 RT/10 from Utah. That's right—these cars were meant to be driven and we had a full weekend of it.
The weekend kicked off with a BBQ lunch at the Hickman's House. Hey, Texas is known for good BBQ and Chris and Jenn did not disappoint. After the drivers' tanks were refilled, the Vipers' performance came next. Maxwell Dodge Austin opened up its garages for us to dyno our Snakes.
Every Viper year was represented and we had the honor of three 2008s join the pack. For the final act of the day we drove up in style to The Domain for a night on the town and lots of attention.
Saturday's highlight was the cruise through the Hill Country. The sun was out and the roads were begging for us to go faster and faster! Plus the wild flowers were out in full bloom; it was a perfect spring day.
The first stop of the day was at the Automobilia Village Car Museum. The collection of cars was impressive and everyone had fun sharing stories from "back in the day." Lunch was on the go so we didn't not miss out on any cruising time. The drive showcased the best that Central Texas has to offer.
The run concluded with a fun trek down Lime Creek leading to The Oasis on Lake Travis. We had a feast at the top of the Oasis and we all sat out on the patio as we watched the sun set on the horizon. The title holds true that The Oasis is the sunset capital.
Sunday morning came early so we could maximize our time at the track! Harris Hill Road hosted us as we put the Vipers up to their final challenge of the weekend. In a safe environment, folks pushed their cars to their limits especially with Santa Rita. This 80-foot rise and drop was appropriately named after the patron saint of the impossible task. We ended the weekend on an adrenaline rush!
Thanks to all for making the 2008 Annual Texas Viper Round Up a success. Special thanks to George Farris, National VCA Vice President and the Texas Viper clubs for their support. Renew your Viper club memberships now, because next year we guarantee you will get your money's worth.
Just take a look at our pictures for proof (http://www.youtube.com/watch?v=f9laT1r0eSc) and make plans to attend next year!