By Darren Jacobs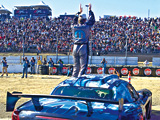 A new motorsports star dawned behind the wheel of a Dodge Viper in 2004—Samuel Hübinette, a.k.a. the "Crazy Swede." Hübinette quickly became a fan-favorite of the Viper Nation, capturing two Formula Drift (FD) championships while steering a Mopar®-powered Viper. After switching to a Mopar Dodge Charger in 2007, the "Crazy Swede" returned to his familiar Mopar NuFormz Racing Dodge Viper SRT10® for the 2008 Formula Drift season—with a vengeance!
The ultimate Snake charmer, Hübinette slid and slithered his trusted Viper, owned and prepped by Shaun Carlson's NuFormz Racing team, to a runner-up finish in the final 2008 FD championship standings. In his return to the Viper Nation, Hübinette captured three podium finishes and three No. 1 Qualifier spots in seven events. His top-five points finish was the fifth of his career—impressive, considering the FD series has been in existence for only five years.
The dominance of Hübinette and his Mopar-powered Viper has been a constant on the FD Series, as has the support Hübinette has enjoyed from the VCA. The drift star's first FD title came in 2004 while driving a Mopar Viper Competition Coupe owned by Nevada VCA president Marko Radosavljevic.
Radosavljevic's Comp Coupe proved too good—it was banned from FD competition after the 2004 season. That didn't stop the resilient Hübinette. He simply switched to a new Dodge Viper SRT10, and has scored nine career FD victories, a series high. Eight of those wins have come while drifting a Viper (Hübinette claimed one win in 2007 while driving his Mopar Dodge Charger).
"The Viper, with its 100-inch wheelbase, is the perfect platform for drifting," raved Hübinette. "It's not too short and not too long, and with the massive torque of the Mopar V10 engine it's enabled me to have great success."
Perhaps the biggest obstacle Hübinette has faced during his years in the Dodge Viper has been to get the Snake to "bite" sideways (as is needed for drifting) instead of forward, as the car was designed. Make it more of a sidewinder, if you will. "The Viper has so much forward bite, because the car is set up for going fast and straight ahead on the street or at the track" said Hübinette. "We've had to adjust the set up and figure out ways to get the car to have that bite and speed, but only sideways. That's probably been our biggest challenge."
Hübinette, a native of Sweden who became a U.S. citizen in 2006, confessed one of the greatest perks of his job—developing deep and lasting friendships with the VCA members he has met.
"It's been awesome, getting to know all the Viper people throughout the years, attending VOIs and seeing all the support from the local Viper clubs as we travel throughout the country," Hübinette said. "It's been tremendous fun, and I've got to meet so many great and giving people. We definitely missed them the last year when we ran the Charger. It was fun to come back to the Viper this season and see all the familiar faces coming out to our events again."