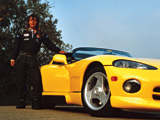 Hello Viper Friends!
I'm sending this message from Luxembourg, a small country in Europe that only has eight Viper owners. As far as I know, we have two 1994 RT/10s, a 1997 GTS, a 1999 GTS, three SRT10s and my yellow 1995 RT/10 in the entire country.
I wanted to share these photos of my Viper, along with some of my other vehicles. In my garage I also have a 1972 Dodge Charger R/T with the 440 cid engine, and a Ram pickup.
My wife Martine, our son Billy and I are all big Dodge fans. I also have a large collection of models and most of them are Dodge and Mopar® products. Thanks for making such a great car.
I will always be a Dodge and Viper enthusiast.
René Mahr
Luxembourg, Europe