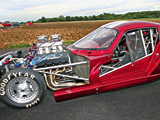 Sometimes you find Mopar® fanatics in the most unusual places. Take Chris Orthodoxou for example. Born in the small town of Hounslow, Middlesex, England. Orthodoxou started racing under the Mopar flag at a very early age.
His Mopar journey began in 1983 when he began competing in a red 1972 440 Plymouth 'Cuda (which he still owns to this day). Success came quickly. He said, "My first ever quarter-mile pass was 14.1 sec @ 101 mph at Blackbushe."
He continued, "The 'Cuda was raced throughout the 1980s and early 90s and eventually ran a best ever of 11.30 @ 119mph at the Mopar Nationals in July 2005."
Now that his appetite for Mopar performance had been whetted, it soon became necessary to move on to another model. Orthodoxou explained, "In 1989 I acquired a 1967 Dodge Dart and prepared it for competition. It was fitted with a hot 440 engine and Torqueflite transmission. I entered it in championship series racing in the Super-ET bracket and ran a best time of 11.10 sec @ 121 mph."
Orthodoxou added, "We put the 511"( ex-Pro-Mod ) Mopar B1 engine together in 1993 and progressed into the Pro-ET bracket. There I ran a best time of 9.42 sec @ 139 mph. Next came the 556" siamesed 4-bolt blocked Mopar B1 engine and that ran a best time of 9.04 sec @ 149 mph."
He concluded, "The Dart launched hard and 'wheels up.' It was always a real crowd pleaser."
And speaking of crowd pleasers, Orthodoxou has now produced a dragster that is absolutely blowing people away. Apocalypse Motorsport, operated and managed by Chris and his wife Angella, now owns and races a Dodge Viper GTS drag race car. The Viper has taken the British and European drag racing scene by storm since its unveiling in July 2006.
The Apocalypse Motorsports Viper is powered by an 1,100 horsepower, all-aluminum HEMI® V8. And Orthodoxou proudly pointed out that the car lives up to its reputation. "She is officially the quickest Dodge Viper in Europe, having run a best-so-far 7.811 second quarter-mile @ 172 mph."
Orthodoxou described how the new Viper came to pass. He said, "The Viper build was completed in June 2006. I picked it up from SID Race Cars in Great Yarmouth on July 1 and unveiled it at our headquarters to gasps of amazement on July 2. Present at the unveiling were reporters from a local newspaper, Eurodragster.com (the European drag racing official Web site), colleagues from the drag racing scene, Mopar aficionados, other Dodge Viper owners and friends and family."
He continued, "The race track debut was at the European Doorslammers meeting at Santa Pod on July 8, 2006. After completing observed runs, the new car made it all the way to the final round (in a 16-car field) where we finished runner-up having run a fastest time of 8.13 sec @ 164 mph. It was a remarkable achievement for a brand new car on its maiden race track outing."
The next time out at the Mopar Euronationals the Viper was nudged into the seven second zone with a best of
7.97 @ 167 mph. And to top the weekend off nicely, the Viper won the "Ultimate European Mopar" trophy.
Since then, the Viper has gone on to experience even more success throughout England and Europe. Orthodoxou said, "We unleashed the Viper for her first competition event of 2007 at the Shakespeare County Raceway Spring Speed Festival meeting. It was the first track outing with our recently rebuilt engine and it produced back-to-back quarter mile performances of 7.92 @ 170.05 mph,
7.94 @ 169.9 mph and 7.91 @ 171.10 mph."
He added, "We were very happy to finish in the fourth qualifying spot out of 13 cars. The third qualifying run culminated in a new best-ever top speed of 171.10 mph. As an added bonus, we were also the only 'Door' car to qualify in the top 12 among a field of dragsters and altereds."
Orthodoxou continues to run the Viper whenever he can, taking on all comers. "It's not only popular with the fans, but also with the media and the Viper continues to be covered extensively in many auto sport and customizing magazines. It's been a great ride, in more ways than one."