2008 ACR Takes VM Trophy at the Rock
Story by Tom Leasure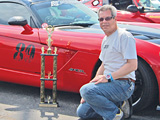 A 2008 Dodge Viper ACR is VIPER Magazine's 2010 Viper of the Year. ?We met up with the owner Stuart Goldblatt, from Raleigh, N.C., at Mopars at the Rock at Rockingham Drag Way in Rockingham, N.C., on Apr. 17, 2010. Goldblatt, a member of the Carolina Region VCA, has supported this event since 2000.
As I began to write this article about VM's 2010 Viper of the Year, after reviewing Goldblatt's information, I felt the story should be more than an article about a car with notable specs. So, I'm including a depiction of one man's enthusiasm and passion for the Dodge Viper ACR, a great American muscle car.
Goldblatt ordered the 2008 Dodge Viper ACR through a Dodge dealer in Wilmington, N.C., in February 2008—receiving the car ?in September of that year. While seven months doesn't seem long to many, Goldblatt said it seemed like the longest seven months he had ever experienced. When he received the call from the dealer that his ACR had arrived, he drove to the dealership to pick up the car the same day. He didn't arrive home until 2:30 a.m. the following morning.
"I sat in the garage with a friend that night until sunrise, just staring at the car and imagining how fortunate I was to actually have received one of the first 2008 ACRs," said Goldblatt, who also owns a 1999 Dodge Viper ACR that he's driven in Viper Days and other events for nine years. "I realized how very lucky I am to have two Vipers side-by-side in the same garage."
The '08 ACR is mostly original except for the headers and high-flow cats. A short-throw shifter and carbon-fiber dash complement the interior.
While there are so many different aftermarket additions one can add to their Viper, Goldblatt has found that it truly isn't necessary. "It's fun … but clearly the ACR is complete when delivered," said Goldblatt. "It's simply amazing!"
The lap times at VIR are 2:064 (3.27-mi. 17-turn road course). Goldblatt found it very helpful to watch videos of each event so he could learn from his previous outings. In both ACRs they have used three video cameras; each from different angles. Goldblatt has compiled an annual DVD from each event and now has a library record of past years. He hopes it will be fun to watch his DVDs years down the road. One of the things he truly appreciates about Vipers, in general, is the fact that you actually drive the car. "There are no electronic aids," said Goldblatt. "It's truly a driver's dream."
Over the years, the local Carolina's Region VCA has attended many shows and benefits and Vipers always have been the primary draw of all ages. "It's truly fun sharing our cars during club and show events," Goldblatt continued. "It gives us the opportunity to provide non-Viper owners information about the car, let children sit in the cars, and through conversation allow us to offer a bit of Snake "hissstory" they will never forget."
When building his home just over four years ago his wife, Deborah, made him install an intercom in their garage—she calls it "The Snake Pit." To her, it seems he spends more time in the garage than in their house! Goldblatt said, "I just wish I could hear the intercom better!"