Viper SRT 10 Final Edition
By Maurice Q. Liang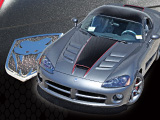 The Gen IV Viper takes its final bow dressed in a classy, formal-looking paint scheme for the Final Edition. Only 50 Final Edition cars have been built, a mix of 18 roadsters, 20 coupes, and 12 ACRs. The sales code for the Final Edition package is AXZ.
The Graphite colored body is highlighted with a single, wide, painted black "Fang" stripe that runs from the hood to the rear decklid. The stripe is outlined by a red pinstripe. On coupes and ACRs, the roof and windshield surround are also painted gloss black, giving the Viper a sleek, canopy-look. Final Edition badges are added below the Viper SRT10® logos on the side sills.
Coupes and roadsters get 6-spoke wheels painted Anthracite Gray, while the ACR continues with black Sidewinder wheels.
Inside, the Final Edition gets a black interior with red accent stitching on the shift boot and knob, e-brake handle and boot, steering wheel, and seats. The center stack ?is piano gloss black with red halo accents around the gauge openings. Final Edition ?cars also get unique floor mats, and a numbered dash plaque.
Steve Sharples, Viper Brand Manager says, "The Final Edition caps off the most unique model year in the history of Viper with the dealer-exclusive editions at Tomball, Roanoke and Woodhouse Dodge, five different special editions, plus the ACR-X race car, and then, with all the colors and options available, many of the non-special edition Vipers should actually end up being one-of-a-kind cars."
All 50 cars have been ordered by dealers, so if you want one, you'll have to go to www.viperheadquarters.com to find a dealer who has one on order.