By Darren Jacobs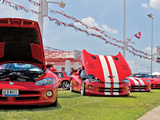 To those whom much is given, much is required, and VCA members have a LOT for which to be thankful. They cruise the streets in a car that reduces grown men and women to drooling mush and belong to a car club that creates iron-clad bonds that last a lifetime. So, yeah, when it comes to giving back, the VCA is definitely not shy. Case in point: The VCA Ohio.
The Ohio Region's holiday bash, held on March 13 in the Transportation Museum at Carillon Park in Dayton, Ohio, demonstrated that the Ohio VCA chapter knows how to seriously par-tay. Approximately 100-plus VCA Ohio and IN/KY Region members raised the roof, along with Viper VIPs such as Ralph Gilles, President and CEO, Dodge Brand; Viper gurus Dick Winkles and Herb Helbig; and VCA National President Chris Marshall. But amid the merrymaking the Club made sure to carve out precious time to raise valuable funds for those in need.
Ralph and Doris Gilles brought along items to auction to support the American
Red Cross Haiti Relief Fund, including a set of three GTS-R watercolor lithograph prints, signed in the plate by GTS-R co-designer Bob Hubbach, and a commemorative gift set from the 1996 Viper GTS pace car at the Indy 500. In addition, PartsRack's JonB donated a banner of Ralph Gilles' Vooodoo Viper. Winning bidders were Jim and Kathy Stout (GTS-R prints), Bill White, VCA Ohio vice president (pace car commemorative set), and Paul Suloff, VCA Ohio Drag Racing Director (Vooodoo Viper Banner).
VCA members and Viper vendors also donated items to auction to help fund the costs of the holiday party. Contributors included the Viper Club of America, Goodyear Tires, Corsa Exhaust, Viper Days, Optima Batteries, PartsRack, Viper Parts of America, Coastal Pet Products Racing Team, ESSCO (Sam Goldfarb), Bosserman Aviation, Arena Dodge, Dick Winkles, Herb Helbig, Chris Marshall, and Jim Stout.
The charity auction was just one way in which the Ohio VCA Region assists those less fortunate. The Club is in its third year of a Charity Show 'n' Shine at Golling's Arena Dodge in Dayton, Ohio.
"Our Show 'n' Shine at Arena Dodge benefits the AIDS Resource Center [ARC] Ohio," said Randall Arnold, VCA Ohio president, who founded the popular charity event. "We've had a great turnout, with many Club members bringing out their Vipers to help support this worthwhile cause."
The Club has raised more than $2,400 for the ARC, a non-profit, community-based organization whose mission is to provide services to those infected, affected and at risk of HIV/AIDS. Last year, the ARC awarded the VCA Ohio its Red Ribbon Society Award for the Club's hard work in raising funds for the organization.
"My feeling is that we are very fortunate that we can afford cars like this and do the things that we do," said Arnold. "There are a lot of less fortunate people out there that can use our help."