Story and Photos by Roger Meiners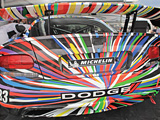 The First Races
Twelve Dodge Viper SRT10® ACR-Xs made Viper racing history at Virginia International Raceway (VIR) as the 2010 Dodge Viper Cup series kicked off with ?two exciting races July 10–11, 2010.
?The weather was sunny, hot and humid—ranging into the mid nineties on Saturday, and a few degrees cooler on Sunday—but who cared! This was exciting stuff, the debut of the ACR-X and its soon-to-be signature standing start. What would happen when nearly eight thousand horsepower was unleashed on the ?starting line for a multi-car drag race to Turn One? NHRA Four-Wide couldn't be much more exciting.
Twelve Dodge Viper ACR-X racers—including two celebrity guest-driven cars—coiled themselves around the scenic 21-turn course for two-and-a-half days to kick off the 2010 Dodge Viper Cup. Connie Bogan, Reno, Nev.; Larry Carter, Evans, Ga.; Jeff Courtney, Jackson, Wis.; Eric Galerne, Houston, Texas; Ted Hughes, Seward, Neb.; Ben Keating, Port Lavaca, Texas; Jim Stout, Alliance, Ohio; Michael von Quilich, Pahrump, Nev.; Keith Verges, Dallas, Texas (Brad Gorrondona's car); and Ryan Schimsk, a young hot shoe from Dallas, Texas (Cody Whitehead's X-snake).
The two celebrity guests were Shaun Bailey, Associate Engineering Editor, Road & Track Magazine, and Army National Guard Reserve Sergeant Michael Kohn, an Olympic Bronze Medal Winner in bobsled at the 2002 Salt Lake, Utah, Winter Games.
According to Dodge Racing, two celebrity drivers will be invited to each race weekend. Their prize money will be donated to the charity of their choice. Each celebrity driver is trained by Cindi Lux, who recently campaigned a Mopar®-Sponsored Dodge Viper Competition Coupe in the SCCA World Challenge.
National Guard Reserve Sergeant Kohn explained how he got involved: "It started with a phone call from Cindi inviting me to compete in the opening race at VIR. I had never been at VIR or in an ACR-X and have little experience racing cars, but who could turn down an opportunity like this? I thought, 'go for it.' I had no idea I would have as much fun as I did. Cindi and her crew welcomed me and started working right away on getting me comfortable in the car. I can't say enough about Dodge, Cindi and the rest of the team. They are hard-working professionals—and how can you not laugh at Fred's (Fred Lux's) jokes? There's nothing better than spending time with my bobsled team on the road and winning races. The same for the ACR-X team—there is such a great amount of mutual respect among everybody affiliated with Dodge and all the teams—it was incredible. All truly believe in the Dodge brand, but most importantly the Dodge Viper ACR-X."
The 2010 Dodge Viper Cup series consists of two races per weekend for five weekends, including the two races at VIR. Drivers are racing not only for glory and a nice trophy, but also for real money. Dodge is paying out $6,500 in cash to the winner and Mopar is throwing in a $1,000 voucher. The payout goes down to fifth place, and the rest of the top ten get a $500 discount on entry fees. Not only ?that, but the series champion gets $25,000, second-place will receive $10,000 and third-place will pay $5,000. The money should put a dent in the budget required to run the series.
If you want to join in the action—get a Dodge Viper SRT10 ACR-X. Dodge has ?built an additional 25 units, bringing the total of 2010 Viper ACR-X models to 50. ?For more information, call Viper Race Headquarters at (888) 960-3333 or visit www.viperheadquarters.com.
---
Race One
Ben Keating Wins Historic First Dodge Viper Cup Race
Saturday, July 10, 2010, Alton, Va.—Ben Keating won the first-ever Dodge Viper Cup race today, the first of two races at the inaugural Dodge Viper Cup weekend event, held at Virginia International Raceway (VIR).
Keating led from pole position and was never headed in his Dodge Viper ACR-X, finishing less than a second ahead of Jeff Courtney, who started next to him on the front row. All competitors were in the new ACR-X Vipers, introduced earlier this year by Dodge.
"I felt extreme pressure from Courtney throughout the race," said Keating. "I did not have the fastest car. My crew built a cushion into our setup, so we would not have any trouble passing tech inspection." Nevertheless he had the second-fastest lap of the race, just a few hundredths quicker than Courtney's best. Keating averaged 99.848 mph for the race.
Third place finisher Ryan Schimsk and fourth place Keith Verges had the drives of the race. Each started at the back of the grid because of missteps in their Vipers' ride-height settings, but shrugged off the penalties at the start—Schimsk passing three cars with a daring wheels-off move. They proceeded to carve through the field, Schimsk setting the fastest lap on the way, before settling just behind Keating and Courtney at the head of the pack.
"I really drove hard to fight my way through the field, and I didn't save my tires, so I had nothing left when I caught up with the leaders," said Schimsk.
"VIR is my favorite track," said Keating. "The facility is awesome. The upper esses at over 100 mph followed by an awesome, blind, downhill turn on the way to Oak Tree … then, one of the longest straights on any road course into a blind, hilltop turn … it just doesn't get any better than that. 160+ mph is just cool.
"I can't remember my nerves ever being that frazzled all weekend," he said. "I wanted it BAD, and my Friday testing was a disaster. My fastest time on Friday was a 2:09, which was extremely off-pace.  I had a lot of work to do and some risks to take. We made some major setup changes and had some success on Saturday morning.
"We all ran a clean race. I had Jeff right behind me for the whole race, and the two guys that had to start at the back worked their way up to 3rd and 4th. If we went another 10 laps, I think the race would have gotten much more interesting.
"The Viper ACR-X is an amazing track car. The first amazing thing is just how quickly the car gets around the track. My fastest lap around VIR in my World Challenge Spec Viper Comp Coupe is a 1:59.5. I was 4.5 seconds faster in my ?ACR-X—and 4.5 seconds per lap is an eternity. The second amazing thing is that this car is basically no different than the street cars sitting in the showroom at ViperExchange.com. This car deserves a lot of credit."
---
Race Two
Ryan Schimsk Wins Dodge Viper Cup Race 2 at VIR
Sunday, July 11, 2010, Alton, Va.—Ryan Schimsk won Dodge Viper Cup Race 2 during the inaugural Dodge Viper Cup weekend at Virginia International (VIR).
Schimsk blasted from pole position to a convincing lead by the end of the second lap. He was never challenged, finishing four seconds clear of Keating. Keith Verges made a lightning-quick start from third on the grid, jumping ahead of Keating, but lost time when he went wide in turn two and dropped to fifth. He was quickly back in third behind Keating, where he remained to the end of the race.
"I got a really good start but went too deep into turn two and had to go wide into the marbles. Ben (Keating) and two others got by before I could collect the car and go on," said Verges. "I got back behind Keating, but couldn't do more than that." He finished two seconds back in third place.
"Keith (Verges) got way in front and all I could do is get close and hope," said Keating. His hopes were rewarded soon after when Verges went wide and had to slow, letting him by into second where he finished.
Guest driver Sergeant Mike Kohn reviewed his progress through the two races, "Unfortunately we didn't win the race but I got more comfortable with the car and the track every time we went out. My best lap in the first couple sessions was 2:18 and my best lap on the last day was 2:00. I was in awe of the horsepower, the stability and grip in the corners and I could really feel the down force over 100 mph. It was great to have Cindi on the radio keeping me focused and getting tips from my teammates Jeff Courtney and Shaun Bailey. Is that an all-star squad or what? Now I understand why Cindi kept saying how special the Viper is when driving. I want an ACR-X so badly now! Maybe I can ask for one as a wedding present from my fiancée. The Army National Guard sponsored me in this event. This was one of the greatest experiences of my life and I would like to thank Dodge, Lux Performance and the National Guard for this opportunity. Now it's time to put some Viper drivers in a bobsled with me."