By Jeffrey Rose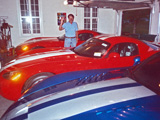 A couple of years ago, VIPER Magazine ran an article about how, in the space of about a week, I purchased three Vipers from John Gastman at Roanoke Motors. I just wanted to provide a short update to that story.
After the initial purchase of those three Vipers, I went on to buy three more Vipers over the next 18 months—a VOI.9 Special Edition Viper from Ringgold Dodge; a 2006 red and silver GTS coupe from Royal Gate Dodge; and a 2008 black and silver GTS coupe, also from Royal Gate.
In closing, I just want to add that Vipers have become a big part of my life since losing my wife Leslie, who passed away from ovarian cancer in 2005. The Vipers and the Gateway VCA members help me to fill that void.