Viper, Police Turn Heads at Huntington Beach
By Darrell Igelmund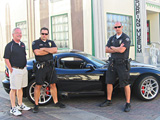 When my wife Linda and I joined other Washington State Viper Club members driving to Detroit for VOI.10, we never realized that major trips would become an annual affair. Last summer it was the coast highway, all the way from Seattle to LA. We took our time and had an absolute blast. Perfect weather, winding roads and daily vistas of the Pacific Ocean we will never forget.
The photo shows the Viper posing at the destination—the famous Huntington Beach (Calif.) International Surfing Museum ("Home of surfing!"). We blocked the sidewalk with the Viper to get the best angle when two policemen came around the corner. After a few minutes of discussion we found that they liked Vipers also … and were more than happy to add to the fun.
For the next few days we bathed in car heaven. Only a few blocks from the Pacific Coast Highway, we saw about every style and price of car you would ever hope to see—Aston Martins, Jaguars, a Hummer with 60" TVs framed in the back windows, and hot rods of all types. And you know what? The Viper was the biggest head-turner of them all!