By Dr. Rich Andria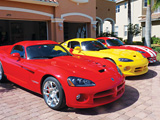 I bought my first Viper, a red 2008 SRT10® coupe, in August 2007 and it was delivered May 1, 2008, in Connecticut. Because I was retiring in December 2008, I shipped it to my new home in Naples, Fla.
As you are aware, Vipers "grow on you" and, with two more spaces in my Viper garage to fill, I bought my second Viper in September 2009, a yellow 2002 GTS. This Viper has some interesting upgrades: a Cat-Back™ exhaust, SRT® wheels, built in radar detector system with sensors in the grille (and at the rear) and a killer sound system including a subwoofer, equalizers, a huge power capacitor and three amplifiers putting out 1,700 watts of power!
So much excitement owning these two killer cars made me upgrade my VCA membership to Venom. However, I still had an empty garage slot to fill, so when I saw a red 2002 Viper GTS Final Edition online (#162) with only 196 miles on the clock, well, what is a Viper lover supposed to do? I purchased this Viper also; and now my three Viper slots are filled. The GTS Final Edition, shown with my wife Terry, has ceramic brakes with slotted drilled discs, roaring Cat-Back exhaust system and straight tubes installed.