By Darren Jacobs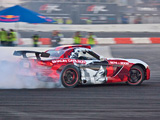 Saturday, October 17, 2009, presented a picture-perfect day for a Formula DRIFT (FD) event. Sunny skies, warm temperatures and a packed crowd made for a perfect setting at the 2009 FD season finale at "The House of Drift," Irwindale (Calif.) Speedway. However, a dark shadow clouded the bright festivities: the absence of Shaun Carlson, team owner of Samuel Hübinette's Mopar-powered NuFormz Racing Dodge Viper SRT10® drift car.
Carlson, 35, and a Viper Nation favorite, passed away suddenly on Oct. 4. The longtime member of Team Mopar® had recently been diagnosed with Brugada Syndrome, a genetic disease characterized by an abnormality in the heart's electrical system that can cause a potentially fatal arrhythmia.
Carlson enjoyed amazing success as owner of a Mopar-sponsored Dodge Viper in the growing motorsport of drifting, a precision driving sport in which drivers compete in head-to-head tandem runs ?and are judged on speed, line and angle.
?As owner of NuFormz Racing, Carlson maintained the Mopar Dodge Viper Competition Coupe Hübinette steered to ?the inaugural FD championship in 2004. Carlson worked closely that year with Nevada VCA President Marko Radosavljevic, who owned the Viper Comp Coupe in which Hübinette competed.
An Ontario, Calif., native, Carlson both owned and tuned the Mopar Dodge Viper SRT10 Hübinette drove to the 2006 FD championship. Carlson and Hübinette teamed for FD series runner-up finishes in 2005 and 2008 and nine FD event wins during their partnership—a series high. Through the years, the pair enjoyed a large following from the Viper Club of America. Crowds of Viper owners turned out to numerous FD events to support the team, including an annual Dodge Viper car corral at the FD event in Sonoma, Calif. (see sidebar).
"He was so helpful when we worked together in 2004. He had so much patience," said Radosavljevic of Carlson, who was acknowledged as a trailblazing engine builder and fabricator in the sport compact and drifting worlds. Carlson also competed for Team Mopar in the NHRA Sport Compact Series and NHRA Pro Stock series. "I knew Shaun for so long, going back to 2000–2001, when he was drag racing sport compact cars. The Formula DRIFT titles Sam and Shaun captured together were very special to the Viper Nation. We stayed in touch quite a bit over the years, so his passing was a huge shock, a huge surprise. He'll really be missed by the VCA."
Despite their grief, Hübinette and the Mopar-powered NuFormz Racing team decided to soldier on in memory of their beloved leader with a poignant tribute at the Irwindale season-ender. Hübinette's Dodge Viper SRT10 was wrapped with special "red Camo" graphics, donated by Farmington Hills, Mich.-based Competition Graphics, featuring an image of Carlson with his trademark Mohawk haircut. The beloved and respected racing icon and innovator was also saluted with a moment of silence and a special FD video tribute prior to the Irwindale main event.
The NuFormz team and Hübinette did Carlson proud, qualifying in the ninth spot and drawing Frederic Aasbo in the Round of 32. Hübinette defeated Aasbo and moved on to the Top 16 main event in a close race with the FD newcomer. He then faced the formidable Joon Maeng in the Top 16. Hübinette followed on the first tandem run, bringing the crowd to its feet as he stuck his Mopar-powered Viper to Maeng's door. Hübinette led on an evenly matched second tandem run with Maeng, prompting the FD judges to call for a "One More Time" (OMT). Hübinette came away with the win in the OMT after Maeng made a correction during the first run, prompting a passionate celebration from Carlson's family and friends, who turned out in large numbers to witness the event.
Unfortunately, the team's luck ran out in the Great 8 round, losing a close battle to Tyler McQuarrie. Despite the loss, Hübinette and the NuFormz team took special comfort in their fourth-place finish in the final standings. During Hübinette and Carlson's partnership, the duo never finished worse than fifth in the final FD season standings since the series was formed in 2004.
"It was a good ending to the season for us," said Hübinette. "We lost our team owner and friend, Shaun Carlson. Formula DRIFT did a great video tribute to him. I think it was really cool and I know his family was very pleased.
"We had some close battles in the Top 32 and Top 16, and I felt we got some extra strength from Shaun above. We wanted to win for him, and I'm bummed we didn't, but we made the Great 8, which I think is remarkable given all the things the team has been through. I'm so proud of the NuFormz team, and I know Shaun would have been, too."
"Shaun Carlson meant the world to me and this team," said Scott Stanwood, NuFormz Racing crew chief. "We nicknamed him 'Dad' because he looked over us; he was our mentor. He was so iconic to the drifting and sport compact racing worlds, you can't even put words to it. Shaun would have never wanted us to miss a race. We pushed ahead and made a good representation of the team. We gave Shaun a front-row seat with this paint scheme, is how I see it."
No doubt "Dad" was once again looking over his NuFormz team, this time from a perch high above the drift course. Carlson's legacy is that of a remarkable record of motorsports accomplishments that entertained and brought joy to Dodge Viper fans, and racing fans in general, for many years. Those memories and milestones will live on forever—as will the memory of Shaun Carlson.
A GATHERING IN SONOMA
Prior to Carlson's tragic passing, the Northern California VCA hosted its annual car corral at the Formula Drift event at Sonoma, Calif., in September. NorCal VCA member Rocky Angen was treated to a ride-along in Samuel Hübinette's Dodge Viper SRT10. Angen termed the experience "bitchin'." The Angens brought their motor home for the club to use as a hospitality suite at their perch above the staging area. Terri Angen provided easy-ups for shade, rented chairs, and brought lunch and beverages for everyone. The colorful Vipers drew plenty of attention from the crowds.
Hübinette and his lovely wife Stina stopped by the corral for a visit. Samuel signed autographs while Stina sold copies of Samuel's new DVD, "Drift Ya Later." Samuel adopted that catchphrase from the Angen's deceased son Brian's phrase, "Race Ya Later," as a way to keep Brian's memory alive.
Samuel owns his own drift-ready Dodge Viper SRT10 and intends to compete in the FD Series in 2010. NuFormz Racing also counts a Mopar-powered drift Viper among its stable, so one way or another, it's a good bet a Viper will drift in 2010 at Sonoma, with the NorCal VCA there to provide vocal support once more!