Thank You for being a Friend
By Darren Jacobs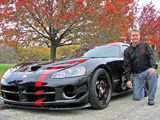 Snoop around a bit, and it's easy to unearth evidence of Jerry Dobson's reputation as a Dodge Viper mechanic par excellence. For instance, there's the constant, 5-to-6 deep line of Vipers on the waiting list to be serviced in Dobson's garage at his home in Lenexa, Kan. And consider the illuminating fact that Dobson repairs more Vipers than all Kansas City-based Viper dealers combined. Add it up, and there's just no denying it: For Viper owners, Dobson's wrench is a most trusted tool.
"Many of the guys are nervous about taking their cars to the dealership," says Dobson, 44, and a member of the Kansas City VCA since 2001. "They feel more comfortable bringing me their Vipers."
Dobson developed his superlative wrenching rep on various exotic cars, and worked as a mechanic at a dealership in Kansas City. He purchased his first Dodge Viper, a red 1998 GTS, in 2001. When fellow VCA members stopped by Dobson's home, which features four-post and two-post lifts shoe-horned into his three-car garage, they witnessed the meticulous repair work Dobson performed on his own Viper. Soon the proverbial light bulbs went off in KC VCA members' heads. In short order Dobson found a fleet of Vipers stacked up and waiting for his services. Now he juggles his Viper repairs with his job as a director of IT for an insurance company.
"Word of mouth spread that I was the guy to work on their Vipers," says Dobson, who has been the KC VCA Vice President for six years. "The longest a guy has waited was 12 months to have his car worked on."
"The bottom line is that Jerry Dobson is a savior to many a Viper owner, not to mention the Club to which he has dedicated the past eight years of his life," testifies National VCA President Chris Marshall regarding Dobson's talents. "For the increasing number of Vipers out of warranty (and decreasing number of certified dealer Viper techs), Jerry is the best friend a Viper owner can have. He works diligently as the Kansas City VP, has a full-time career, and then spends his remaining spare time helping other exotic owners—mainly VCA members. And what does he charge for all that work? Whatever the person wants to pay. Sometimes it's pizza, sometimes cash, and sometimes nothing at all."
Dobson's infatuation with the Snake began in a fashion common to many Viper owners. He got a peek at the demo car when the Viper was released back in 1989 and had wanted one ever since. Dobson finally bought the 1998 GTS, but later sold it and purchased a Porsche (hey, we all make mistakes!). However, the siren call of the Viper proved too strong, drawing Dobson "back home." He's now back where he belongs after recently snapping up a 2008 Viper ACR, black with red stripes.
Dobson has enjoyed membership in a plethora of exotic car clubs, but he says one club is head and shoulders above the pack. Three guesses as to which one Dobson singled out (if you picked anything other than the Viper Club of America, your driving privileges should be revoked).
"There's no comparison at all," raves Dobson. "The VCA has more of a family atmosphere. Club members become your closest friends. We meet at least once a week, sometimes more. The KC Club does a number of things throughout the year, everything from ski trips, canoe trips, every year we do a cruise.
"These are things that are unrelated to the car world, but members are close friends, so you do those social activities outside of driving events. The VCA is by far the best run, most professional car club in the world."
MEET JERRY DOBSON
Member of the VCA: Since 2001
Current Viper: 2008 Viper ACR, black with red stripes
Region: Kansas City VCA
Favorite Viper Event: VOI.8 in Dallas
Dream Viper: The Nurburgring winning Viper
Favorite Perk of Viper Ownership: Socializing with the other VCA members
Sum up Viper in Five Words or Less: "The top of the heap"