By Darren Jacobs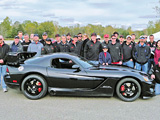 The SRT® vs. VCA autocross battle might not possess the tradition of a Yankees vs. Red Sox baseball game in Fenway Park, or the star power of a Celtics vs. Lakers dustup on the hard court. However, the titanic tussle every two years at the Chrysler Proving Grounds in Chelsea, Mich., does have at least one thing in common with those other famed rivalries: both sides really want to win, and in the worst way.
SRT and VCA went head-to-head once again on Saturday, October 10, driving Dodge Viper SRT10®s supplied by Chrysler. SRT emerged victorious, winning as a group and retaining the trophy, led by Erich Heuschele, the fastest of all the competitors with a run of 92.759 seconds on the 1.3-mile cone-lined course, dubbed "Viper Lives, You Die." Leading the way for the VCA was Bill Pemberton (96.589), Herb Helbig (98.788) and David Tenney (99.906). Coming in behind Heuschele on the SRT side was Chris Winkler (93.584) and Mike Shinedling, Viper Program Manager (97.034).
"Gee, how did those guys get so fast? Even the program management guy (referring to Shinedling) is fast," said Helbig, the retired Chief Engineer of Viper and for years a member of the SRT squad, who switched allegiances for the recent event. "It was strange to be on the 'other' side, but the camaraderie was great. In the grand scheme of things, I was grateful to be invited and it was gratifying to still be considered part of the family."
Unable to resist a good-natured dig at his former team, Helbig added, "I highly suspect that for the last two weeks, the course was set up and they (SRT) were practicing 2-3 hours per day!"
Inaugurated in 2001, the SRT vs. VCA autocross is held the same year as VCA Zone Rendezvous events. Each Zone Rendezvous (ZR) stages an autocross event, with the top two qualifiers from each ZR autocross moving on to the main event to take on the "pros" at SRT. In addition to rewarding the ZR top qualifiers, the SRT vs. VCA event also provides Viper owners and VCA Officers valuable face time with their manufacturer. Ralph Gilles, President and CEO–Dodge Car Brand, Chrysler Group LLC; Dan Knott, Head of Purchasing, Chrysler Group LLC; and Joe Grace, Vehicle Line Executive – SRT, Chrysler Group LLC, all participated in the autocross.
"I think that's something unique about SRT and the VCA," said Shinedling. "We have a strong connection with our customers. Not only do we want to understand their wants and needs, we also actually like to have fun with them. This is an opportunity to do both. We get the customer feedback and we also get to build that relationship by enjoying ourselves."
"The SRT guys love it," said Marv Spatz, National VCA Vice-President. "Ralph came out, even with all his new responsibilities. It's a great thing to keep the relationship going, where SRT engineers can feel and see the excitement of the VCA owners. It's an electric atmosphere."
"It was great to touch base, because we hadn't had a chance to sit down after all the excitement over the summer," said National VCA President Chris Marshall of the opportunity to interact with the SRT and Chrysler Group LLC contingent. "This was a good chance to sit down, get some face time, and reassure them of the VCA's commitment to the platform, and vice versa, with their commitment to building the car and making it the best it can be.
"It was mission accomplished for everybody, other than the VCA not winning the event. In that mission, we failed miserably. But we'll give it another shot. Our plan for next time is to not take any chances whatsoever. We'll drug them at dinner the night before the event and just take the trophy. It might be a boring autocross, but we'll know for sure we can win."
"It's very much a friendly competition," said Shinedling. "No one walks in with a chip on their shoulder." That being said, Shinedling and his team definitely feel pressure to perform well at the event: "It's an important thing for SRT engineers to understand the dynamics and capability of the car. It's cool that we defend our honor. We should be good and we better be good! We have some creditability and respectability to uphold."
The VCA seems to be at a bit of a disadvantage—after all, they are challenging the folks that build the Viper! And eyebrows were raised when it was revealed by Heuschle during the trophy ceremony that the SRT team had enjoyed some autocross training with professional drivers prior to the match (although in SRT's defense, the training is a required part of their job duties).
Yet the VCAers remain unbowed, with an even stronger resolve to improve at the next event. The Club recently purchased a full set of wireless timing gear for autocross events. The set was used at the SRT vs. VCA autocross, and according to National VCA President Marshall, the gear will be put through many more workouts prior to the 2011 showdown.
"We have no excuses now, with the new timing system we purchased," said Marshall. "We've vowed to get out there and set up some autocross events within the Club and get in a lot more practice. It'll be like an autocross boot camp."
The Viper Nation will have almost two years of "boot camp" before their next throw down with the SRT gang. If practice makes perfect, it looks like the 2011 SRT vs. VCA autocross is shaping up to be one heckuva war!
Participating VCA Club Members: Jack Bene, Bobby Cerchione, Andrew Cinque, John Gayton, Herb Helbig, Matt Huett, Jon Jacobs, Bruce Li, David Mazyck, Bill Pemberton, Marv Spatz, David Tenney, Dan (Dutch) Touhey.
Participating SRT Team: Marco Diniz-DeOliveria, Ralph Gilles, Scott Hershner, Erich Heuschle, Martay Jagoda, Dan Knott, Paul Mackiewicz, Tom McCarthy, Len Robison, Jeff Roselli, Vince Schrand, Mike Shinedling, Kevin Stepinski, Mark Trostle, Jim Wilder.
Special appreciation to SRT's Joe Grace, Chris and Mary Marshall, and Paul Heuschele for supervising the timing system.